2020 was one crazy year. Our lives were put on hold due to COVID-19 and many adventures and plans were halted. But hope is on the horizon and 2021 brings a chance to try something new.


The rollout of the vaccine is filling us with hope that 2021 will be a much better year; one where when the time is right, we can start to enjoy outdoor adventure a little further afield. We might be staying local for now, but here's 15 adventures for you to plan for in 2021.

*Please adhere to all Government and travel advice where you are and enjoy the outdoors responsibly.
Take on the UK's Highest Peak
Get out your walking boots and take on Ben Nevis, the highest mountain in mainland Britain. Sitting 1,345 metres above sea level, Ben Nevis stands at the western end of the Grampian Mountains in the region of Lochaber in Inverness-shire in the Highlands of Scotland. There are two routes up Ben Nevis – The mountain track, which is the most common track, used by walkers and hikers. Or alternatively you could push yourself and try a more challenging ascent on the Carn Mor Dearg Arête route which takes over 10 hours. If you really want to push yourself, why not have a crack at the Three Peaks Challenge and climb Snowden, Scafell Pike and Ben Nevis within 24 hours.
Take a Tour of the UK's Incredible National Parks
The United Kingdom may be a small country but boy is its countryside mighty! An incredibly diverse landscape, the Great British countryside offers everything, from rolling green hills and ancient woodlands to breath-taking mountain peaks and beautiful shimmering lakes. See some of the UK's natural wildlife in the Cairngorms National Park in Scotland, or why not discover some relics from the past over at Dartmoor National Park in the South West, filled with ancient treasures from the Bronze Age. The best part of it all is that it's everywhere, no matter where you are in the country, you won't be far from some of the most stunning places in the country. Have a look for areas near you and head on out.
Travel to Northern Ireland and Play the 'Game of Thrones'
The perfect little adventure for fans of the show. There are more than 20 different shooting locations of HBO's hit show Game of Thrones dotted around Northern Ireland. These iconic locations include Ballintoy Harbour, known in the show as the Iron Islands, Castle Ward, which starred as House Stark's legendary Winterfell, and the mysterious 'Dark Hedges' near Armoy, where ancient beech trees have formed a foreboding tunnel that fans of the show formally known as the Kings Road. If you love the show, then you'll definitely love this.
Zip-line in North Wales
Sometimes walking, running or cycling just doesn't quite cut it, you want a real adventure! That's why this year you should take to the wire and try zip-lining! Luckily, in North Wales you can find the fastest line in the whole world and the longest in Europe. This line is so impressive, you can reach speeds well in excess of 100mph! My good friend Will gave the zip-line a go last summer and described it as "Definitely unique and awesome but not for the faint of heart. Even the van ride up the sheer cliffs seems dubious but it really is next level. Be sure to pay extra for helmet cam!"
Walk the Welsh 3000's
15 mountains, a height of 3,000 feet and some serious leg power is what's known as the Welsh 3000s. Geographically, the mountains fall within three ranges of northern Snowdonia, Glyderau and Snowdon, all sufficiently close enough to make it possible to reach all 15 summits within 24 hours. A challenge known as the Welsh 3000s challenge. Do you think you're up for it?
Find Fossils on The Jurassic Coast
Bring out your inner Alan Grant and head to the Jurassic Coast, a 95 mile stretch of the south England shoreline, running from Exmouth in Devon to Studland Bay in Dorset. The rocks on this unique stretch of coast record 185 million years of Earth's history, taking us straight back to the Jurassic Era, or what is commonly known as 'The Age of Dinosaurs'. As well as this fantastic piece of geology, there's stunning views on the way such as the beautiful cliffs at Beer, or Lulworth Cove, a breathtakingly blue bay that's hidden away for that extra magic.
Complete the North Coast 500
Also known as Scotland's answer to America's Route 66, the North Coast 500 is rated to be among the top 6 coastal road trips in the world. A 516-mile scenic route around the entire north coast of Scotland, the trip allows you to take in some of Scotland's most beautiful sights. The route begins and ends at Inverness Castle and links many of the north Highlands of Scotland's greatest features in one single route. You could take some camping gear with you and camp out at different spots along the route, really bringing you closer to the Scottish Highlands.
Or Alternatively, the North East 250
If the North Coast 500 seems a bit daunting or maybe you fancy a road trip but something a little on the smaller side of things. Then the North East 250 is the answer for you. Located slightly further south than the North Coast 500, running through Aberdeenshire and Moray Speyside, the route mixes coast as well as countryside, passing through picturesque towns and villages and the UK's largest National Park.
Pitch Up For The Return of Festivals
The 2020 festival season was lined up to be a belter! With line-ups for Glastonbury, Isle of Wight and many more announced, it was shaping up to be an unforgettable year. Unfortunately, that was when things took a turn for the worst and we ended up in lockdown. Up until December things still weren't looking great for festivals, until the hope of a vaccine came along. Now with millions already vaccinated, festivals are looking promising once again, with many organisers looking to delay them till later in the year. We know so many of you out there are looking forward to the 2021 festival season, or 'The return of festivals' if you will, that's why we stuck them on this list.
Laugh Out Loud at The Edinburgh Fringe
Every summer, Edinburgh is taken over by comedians and performers for a full month of shows and theatrics. Featuring big name stars as well as first-timers, new material, old favourites and unforgettable snappy one-liners is what the Fringe is all about. The world's largest arts festival, it transforms Scotland's capital into a lively, pulsating, exciting hive of energy. One that you won't want to miss. The 2021 Edinburgh Fringe is still planned to go ahead, with the fun kicking off on August 6th for 3 weeks til the 30th. You can keep updated on any news on The Fringe by checking their website here.
Capture a Glimpse of the Cosmos at One of Britain's Dark Sky Spots
We've all looked up at the night sky before and gazed in awe at a sky full of stars. But most of us unfortunately have never seen the full picture. Due to light pollution we only see a small percentage of the stars in the night sky. That's where Dark Sky Spots come in. Areas of the country with little light pollution that you can see more of what the universe has to show us. You can even see the Milky Way at some spots! The Isle of Man is one of the best spots in the UK for stargazing due to how remote it is, so if you want an experience that's out of this world, why not book a trip? You can find your nearest Dark Sky Discovery Spot here.
Go E-Biking Through North Yorkshire
Get lost in the haunting abbeys, expansive moorland, weather-scoured millstone and drystone walls of North Yorkshire. E-bikes have quickly become a very popular purchase and North Yorkshire is a great place to get the most out of it. Filled with thigh-busting ascents, it's perfect for E-bikes to show off what they're really made of. We sell plenty of E-bikes on our site, so why not pick one up and try a new style of cycling this year?
Visit Llanfairpwllgwyngyllgogerychwyrndrobwllllantysiliogogogoch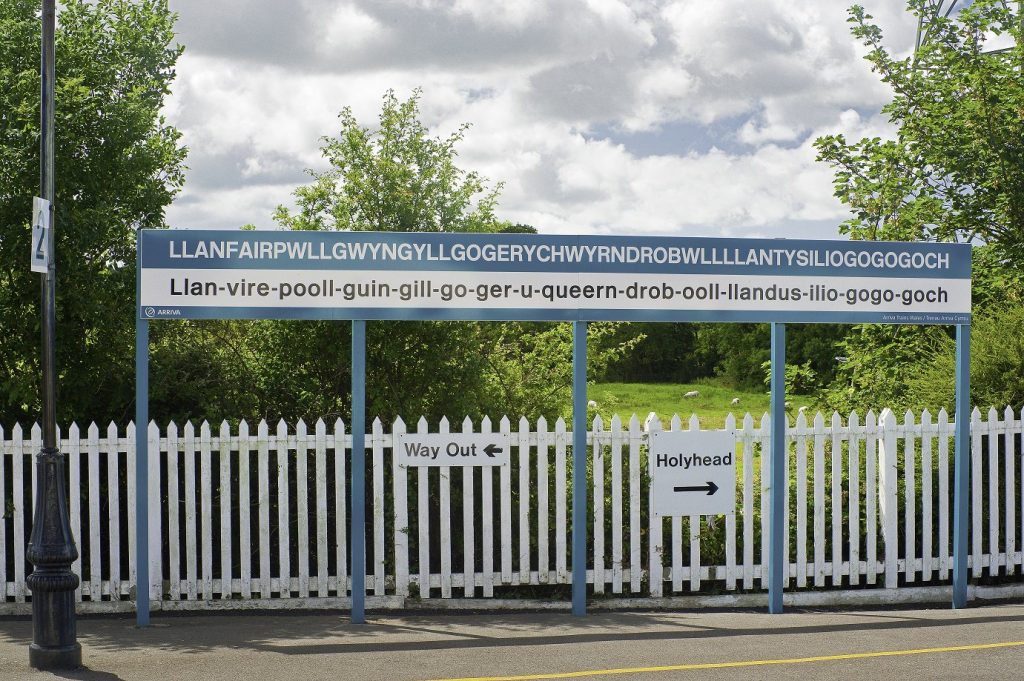 This iconic village in the north-west of Wales has grown ever more popular for tourists in recent years purely down to its unusually long name. With 58 letters, it holds the title of having the longest place name in the United Kingdom. Many people come down to visit the village mainly just to get pictures next to the signs but also to have a crack at pronouncing the name themselves. Make sure if you do decide to take a trip down here to bring a map as you may have some troubles asking for directions.
Travel to the end of the line
The West Highland Line can be boarded in Glasgow and ridden all the way to the end of the tracks where the land meets the sea and the train pulls into port town Mallaig. Quickly leaving the urban cityscape behind and passing craggy mountains, steep gorges, and some stunning lochs, the West Highland line is one of the most beautiful railway routes in the world. It captures Ben Nevis, the Glenfinnan Viaduct, which you may recognise from the Harry Potter franchise, and stops at some of the most remote stations in the country, including Corrour, the highest-altitude station in the UK. Since this is a train route however, don't forget your mask.
Go travelling
This last one might be a bit vague, but that's intentional. After the year we've all had, don't you think we all deserve a bit of a break? For when things start to settle and we begin to return to some form of normality, why not just get away and see how life works on the other side of the planet? Had a trip in mind for a few years now? Why not take the leap of faith and go for it? If 2020 taught us anything it's to not take anything for granted, so go and enjoy while you can. Just make sure it's safe to do so first.
So there's 15 adventures you can embark on in 2021. We've tried to keep them as realistic as possible so hopefully when life does start to get back to normal, there's nothing to stand in your way of a belter of a year! Take 2021 by the reigns and let's GO Outdoors!


Wishing all outdoor enthusiasts a happy and safe new year!