5 waterside campsites in the UK
We have finally passed April 12th on the government's roadmap to easing covid-19 related restrictions and camping season is here! Please scroll to the bottom of the blog more information*
All aboard! We're heading downriver on a voyage of campsite discovery with James Warner Smith, editor of the Cool Camping guidebooks, as he picks his top five waterside campsites.
Check COVID restrictions beforehand and enjoy the outdoors responsibly.
Whether it's wild swimming, stone skimming or simply messing about in boats, there's nothing quite like camping beside a river. The wide, flat meadows and green spaces that surround our British waterways seem ready-made for camping and it is often here, in these beautiful areas, that the UK's best campsites can be found. To help you find your next watery wonderland, we've asked the experts at coolcamping.com for their pick of the very best riverside campsites in the UK. All you need to do is pick your favourite and hop ashore…
Canal Camping, Norfolk
No visit to the Norfolk Broads is complete without a dabble on its famous waterways and, directly on the banks of overgrown, 19th-century Dilham Canal, this laid-back summer campsite is the perfect place to start. Campfires are permitted, well-behaved dogs are welcome and there's a handy canoe and kayak launching spot on the edge of the meadow. Facilities, housed in a wooden cabin, are relatively simple – toilets, showers, washing up sinks and fresh water taps – but more than adequate for a weekend break and there's an annotated OS map to help you get your bearings.
---
Digeddi Wildlife Camping, Powys
Within easy paddling (or walking) distance of Hay-on-Wye, this vast riverside meadow has relatively few facilities and a thoroughly wild feel. There's room for near 100 tent pitches, though it's never full, with the best spots right down on the waters-edge where you can light campfires on the pebble beach. Canoes are available to hire and a return bus allows you to keep it easy and head downstream. Walk into town, though, to explore the renowned bookshops and antique stores, as well as a slew of restaurants and gastro pubs.
---
Walkmill Campsite, Northumberland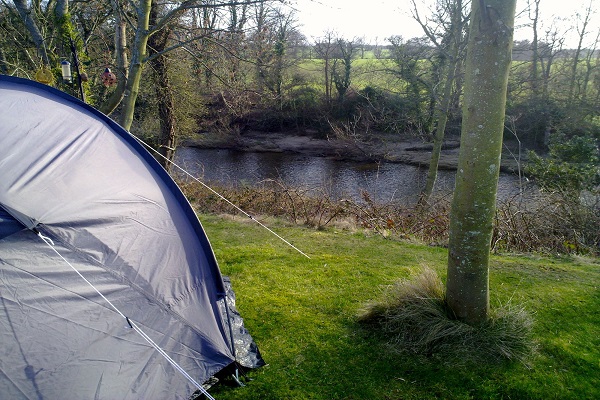 Campers share the meadow with a small number of friendly sheep in the refreshingly understated tent field at Walkmill Campsite, set inside a curve on the weaving River Coquet. A short stroll from the waterside pitches, facilities include a proper bathroom alongside a mobile home that serves as an informal information centre, while it's a two mile walk downstream to the beaches of the Northumberland coast. Stop at the cross-shaped keep of Warkworth Castle along the way – one of the strongest fortresses in England – then take a boat trip from the castle grounds to an intriguing nearby cave, accessible by water only.
---
Smugglers Cove Boatyard, Snowdonia
It's all about wild camping at this old slate works overlooking the beautiful Dyfi Estuary on the North West Wales coast. Campers park in by the old shipping quay before walking along the tidal riverside to a couple of small clearings among the trees. Off-grid and back-to-basics, the intention is to provide a wild camping experience with knock-our estuary views. Behind you, the mountains of Snowdonia tumble down towards the campsite, while before you the water stirs with the days tides and the varied wildlife and waterfowl. Simple facilities are provided back at the boathouse where you parked, around 100 metres away.
---
Lee Valley Almost Wild Campsite, Hertfordshire
Open on weekends only, this wilderness campsite offers the ultimate off-grid experience despite being within cycling distance of central London. Some even arrive by kayak to this canal-side woodland clearing in Hertfordshire's Lee Valley, where campfires are encouraged and canoes are available to hire. With just 17 tent pitches (12 directly on the riverside) the campsite books up well in advance, so sharp campers should book early. And if you do come by bike or boat, there are shops and pubs within walking distance, despite the thoroughly wild feel of the location!
---
Based on their leading guidebooks, the Cool Camping website now offers an online collection of the very best camping and glamping sites in the UK and Europe. You can book all of the campsites above and more on coolcamping.com
Be prepared for your trip and shop all things camping here at Go Outdoors!
*We have finally passed April 12th on the government's roadmap to easing covid-19 related restrictions, meaning self-contained accommodation is able to reopen and camping season is here!
Don't forget though, holidays which include shared facilities will not be allowed until at least the 17th May. It's also worth noting that campers and caravanners will only be able to holiday with other members of their own household.
Self-contained accommodation is also allowed in Wales, but holiday accommodation in Scotland isn't expected to reopen until April 26th at the earliest.
Please see our Camping After Covid Blog for further information and advice.