10 UK campsites near the sea
We have finally passed April 12th on the government's roadmap to easing covid-19 related restrictions and camping season is here! Please scroll to the bottom of the blog more information*
There's not a single place in Britain that's more than 70 miles from the sea and when it comes to camping holidays it's tough to top a visit to the coast. To help you pitch within a flip-flop's throw of the beach, we've asked Cool Camping's Amy Woodland for her latest recommendations…
Check COVID restrictions beforehand and enjoy the outdoors responsibly.

Sand, sea, sky and the sound of crashing waves… there's no place quite like the coast. Choose a campsite near the beach and you'll never be short of things to do: You can surf, swim or build sandcastles, enjoy cliff-top walks or poking around in rockpools. And, after a long day exploring our craggy coastline, what could be better than returning to a campsite right beside the shore? There are plenty of campsites around the UK's long and varied coastline but only the best get the thumbs-up from coolcamping.com – we've asked resident writer Amy Woodland for her latest recommendations…

Lepe Beach, Hampshire
It takes less than two minutes to stroll from your pitch to the sand and pebbles of Lepe Beach but you needn't even leave your tent to see the sea. Almost every spot at this tents-only site on the edge of the New Forest National Park has a view across the Solent towards the Isle of Wight, while adjoining Lepe Country Park – with its boardwalks, nature trails and play area – provides inland fun as well. There are around 100 grass pitches on the spacious, seaside meadow, plus the option to rent pre-pitched tents complete with camp beds and cooking equipment. Campfires are allowed and off-ground fire pits are available for hire.
---
Troytown Farm, Isles of Scilly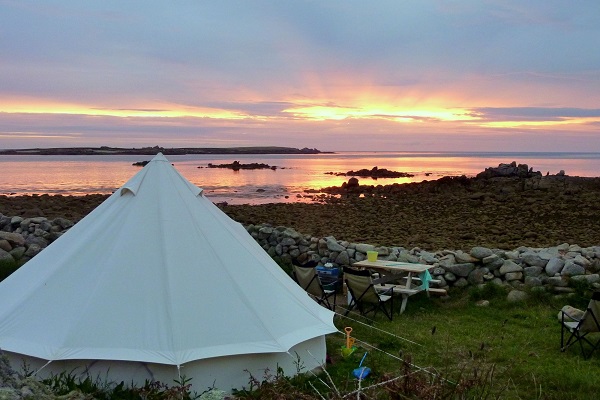 It's hard to imagine a more scenically situated campsite than Troytown Farm. Perched on the tiny island of St Agnes, with stunning views of the other Isles of Scilly and the open Atlantic beyond, this quaint farm campsite claims the title of England's westernmost campsite. For the adventurous, however, the rewards are exquisite. It takes two boats and a tractor to get your gear to the site and there's no electricity at the campsite's 40 pitches but, in a location like this one, watching the sunset and stargazing are all the entertainment you need. The campsite has its own beach, an excellent farm shop and makes it's own ice-cream… what more could you want?
---
Rhosson Ganol, Pembrokeshire
At the very furthest point on Pembrokeshire's craggy St David's Peninsula, Rhosson Ganol Campsite is a back-to-basics affair with 30 grass pitches in a gently sloping meadow. Each pitch offers views across Ramsay Sound to the RSPB reserve at Ramsey Island, while the renowned Pembrokeshire Coast Path is just beyond the doorstep – perfect for walking the dog or for hiking round to Whitesands Bay. Porthselau beach is also just a five-minute stroll from the site, while the streets of St Davids, the UK's smallest (and perhaps most charming) city, are around a half an hour walk.
---
Grange Farm, Isle of Wight
There are plenty of campsites on the Isle of Wight – but not many like Grange Farm, which offers the best of coast and country. Located on a cliff-top with access to a beach below, it is also part of a working farm so you're able to meet llamas, Kunekune pigs and chickens during your stay. The site is family-run and family-friendly and if the beach and animals aren't enough to keep kids occupied, there's also a play area and space for ball games. Compared to some of the island's big, commercial holiday parks, Grange Farm is refreshingly basic but still offers extras to make camping comfortable including electric hook-ups, decent showers and hardstanding pitches for campervans and caravans.
---
East Crinnis Farm, Cornwall
East Crinnis Farm is about as Cornish as it gets. Not only is a short walk to the renowned South West Coast Path and the cliffs above Crinnis Beach, but there's also a free Cornish pasty supper on offer at weekly fireside storytelling sessions during the summer holidays. It's two miles from one of Cornwall's best-known attractions, the Eden Project, and not far from Charleston Harbour – recognisable to any Poldark fan. With 40 spacious pitches and a handful of glamping options, such as yurts and geodesic domes, there's room for every type of camper too.
---
Secret Spot Camping, Devon
Two miles from Saunton Sands and Devon's surf capital, Croyde Bay, this aptly named campsite is remarkably hard to find (even with a Sat Nav). Persevere though, and the determined camper is rewarded with a scenic little slice of England to call their own – a flowery, garden-like revelation, set in a meadow beyond the local nursery. A short stroll reveals nooks and crannies peppered with comfy chairs, a barbecue, picnic tables and a wishing well, along with essential amenities such as a fridge-freezer, microwave and kettle. Bring your own surfboard, or rent them from Surfed Out, beneath the beachside restaurant.
---
Celtic Camping, Pembrokeshire
Nuzzling the shores of the Irish Sea, few campsites can match the knock-out sea views of Celtic Camping. First opened on National Trust-owned land in 1992, this established farm site has direct access to the Pembrokeshire Coast Path and a sheltered swimming cove. The original corner of grass remains – now joined by a flat terrace with electrical hook-ups and a third, huge, undulating field – while converted outbuildings house an impressive facilities block. Throughout the years and the changes, however, the same laid-back, traditional attitude to camping has remained. Campfires are permitted, tent campers rule the roost and the view? Well, that's just as stunning as ever.
---
The Bells of Hemscott, Northumberland
Behind the seven-mile-long sands of Duridge Bay, tents and camping chairs are scattered among the dunes, hidden in beachy pockets of sea sponge and marram grass. This is Bells of Hemscott, a pop-up campsite only open for the school holidays each year. Along with the luxury bell tents (further inland), which give the site its name, this beachfront base offers 30 or so wild camping pitches with compost loos, off-grid shower huts and a fresh water supply. Otherwise, facilities are sparse and there is no lighting, save for your evening campfire. Rise early to catch dazzling sunrises over the North Sea.
---
Loch Dunes at Whitesands Camping, Pembrokeshire
Nestled in the dunes and just a short walk Whitesands Beach, this peaceful retreat has spacious hideaway pitches and five star modern clean facilities, providing an outstanding camping experience. Famous for its sunsets and renowned as one of the top surf spots in Pembrokeshire, this stunning campsite is set at a beautiful location and is ideal for family getaways. And if you're not at the beach, you're just over a mile away from the smallest city in Britain, St Davids, where you can explore cafés and galleries. e
---
Pleasant Streams Farm, Cornwall
This 50-pitch meadow is a pleasant place indeed. A lake, in the centre of the field, not only attracts wildlife, but also beckons you to hop in the rowing boat for an afternoon afloat; there's a summerhouse with books and games for rainy days; and, of course, there are the animals: goats, pigs and the chickens that lay fresh eggs for your breakfast. The crackle-pop of campfires offers one evening soundtrack, but you can break the tranquillity with a -minute stroll to the local pub. By day, cycle the nearby Pentewan Valley Trail or hire the campsite's kayak and explore the beautiful coast around Gorran Haven and Charlestown.
---
Based on their leading guidebooks, the Cool Camping website now offers an online collection of the very best camping and glamping sites in the UK and Europe. Discover their full collection of seaside campsites here.
Be prepared for your trip and shop all things camping here at Go Outdoors!
*We have finally passed April 12th on the government's roadmap to easing covid-19 related restrictions, meaning self-contained accommodation is able to reopen and camping season is here!
Don't forget though, holidays which include shared facilities will not be allowed until at least the 17th May. It's also worth noting that campers and caravanners will only be able to holiday with other members of their own household.
Self-contained accommodation is also allowed in Wales, but holiday accommodation in Scotland isn't expected to reopen until April 26th at the earliest.
Please see our Camping After Covid Blog for further information and advice.