Have you made your list? Checked it twice? You may be struggling on what to buy certain individuals this Christmas. That's why we've put together some fantastic ideas which will impress and inspire. We've asked our in-house experts to handpick the greatest gifts, then put together the Go Outdoors Christmas Gift Guide.
Whether you're buying gifts for your other half, a special present for a friend or something to spoil the kids, here at Go Outdoors it's gift galore, and there's something here for everyone! We have big presents, small presents, stocking fillers, low budget gifts, the list goes on…
So, get picking, get ordering and get wrapping! And hurry, Christmas is only around the corner…
Stocking Fillers
If you want some inspiration on filling your stockings, we have a huge selection of small gifts to choose from. We have clothing items such as hats, gloves, scarves and neck gaiters.
Our latest Mind hats are the perfect stocking filler! Recently, we've partnered up with Mind charity to raise awareness and demonstrate the benefits that the outdoors has on our mental health. That's why we've created this selection of super cosy hats for the colder season, so you can stay warm, knowing your money is going to a great cause! Let's put our 'Hats On For Mind' and raise awareness together!
We also have other great stocking filler gifts including maps, torches, compasses and boot cleaning products. Plus, many other smaller gifts across our site. Have a browse and see what you can find!
Gifts for Cyclists
We all remember the excitement of receiving a brand new bike on Christmas Day. So give your little ones a gift to remember this Christmas! From bike trailers, to balance bikes and into their very own kids' mountain bike with stabilisers and beyond; our range of bikes will cover them as they grow! Shop our kids bike range here and find the perfect present for your child this Christmas.
Bikes aren't just for the kids. How about treating your other half to a brand new bike? Or if you're looking for a lower budget gift, we have a huge selection of cycling clothing and accessories – the ideal Christmas present for cycling enthusiasts! Browse our selection now and have them equipped for their next adventure.
Shop online or head to one of our UK stores and speak with one of our bike technicians about which of our bikes is right for you.
Gifts for Campers
If your family and friends are into camping, we have a whole load of items perfect for Christmas presents here at Go Outdoors. From tents and sleeping bags, to camping furniture and cooking equipment, we have it all! There's tons of products in a range of prices so you can find the perfect gift whatever your budget.
Take a look at the Petzl Tikka Headtorch – a simple, compact classic head torch with three lighting modes, a great accessory for around the campsite! Its versatility means it's great for walking and hiking too.
A Christmas Classic
A Christmas classic and the perfect stocking filler. No matter who you're buying for; a family member, a friend or a colleague at work, you can't go wrong with a pair of socks!
We have a huge selection of socks at Go Outdoors from top brands including Bridgedale, SealSkinz and Heatholders. And they start at prices from just £4.49 – bargain! So give someone you love a fresh pair of feet this Christmas (it may benefit you too!)
Something for Dog Walkers and Their Fury Friends
Don't leave Buster or Bella out this Christmas! Buy them something special so they can join in the fun this year. Or if you have friends and family with dogs, a gift for their pet is the perfect gift for them too! Here at Go Outdoors we have a large variety of superb products to choose from, including light up collars, harnesses and many other accessories. Take a peep here for the perfect Christmas gifts for dog walkers and their fury friends.
This LED safety collar is ideal for the dark winter months! A great way to see your dog in the dark with 1000 feet and 360 degrees of illumination! Shop it here.
Winter Clothing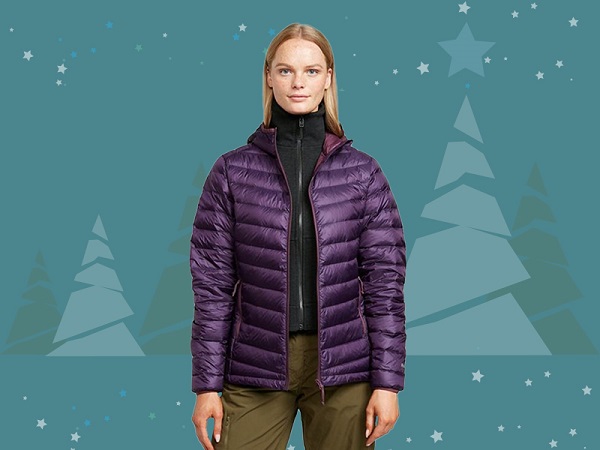 We're in the heart of the cold weather season, so what better time is there to buy winter clothing gifts? From coats, to fleeces or even smaller gifts like hats and gloves, there's something for the whole family. Explore our huge range of clothing for men, women or kids and find them the perfect present today. Plus, they don't have to be a walker or a cyclist, we have plenty of clothing for every day wear too!
We've picked out our favorite winter pieces here; the Packlite Alpinist Jacket from Peter Storm. We have this in both men's and women's! Shop them here.
And the Rab Microlight jackets are another of our favourite cold weather pieces, also available in both men's and women's. Shop them here.
Clothes for Hikers
A fleece is the perfect gift for hikers! Whether you're buying for your other half, your mum, your grandad or your sibling, a cosy fleece is a great gift for Christmas. Our fleeces are super snug, super comfy and super affordable! From leading brands including Craghoppers and Berghaus, they are made from top quality fabrics, ensuring your loved ones stay toasty, whilst looking stylish throughout the chilly season.
Our staple winter piece is the Hartstop Fleece from Berghaus! Take a peep here.
Horse Riding Gifts
For those with a hobby of horse riding, we have plenty of products ideal for gifts this Christmas. We have clothing, footwear, headwear and body protection for the horse riders; rugs, blankets and tack for the horses; and plenty of accessories for the stable too! If you're after some top quality boots for riding or around the stable, we recommend Royal Scot Footwear, you can take a look at their full range here.
Gifts for Climbers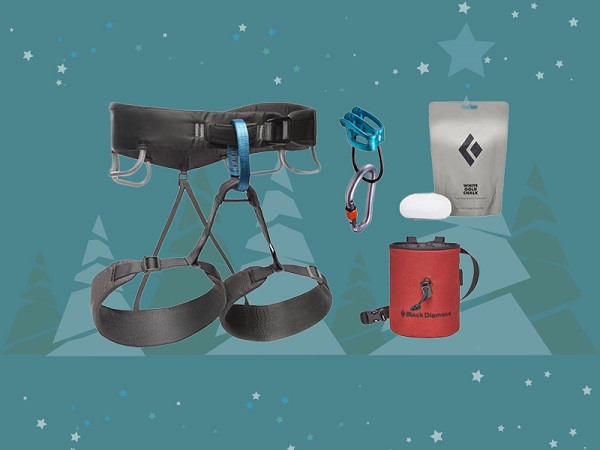 Climbing is a great sport which is continuing to increase in popularity! Here at Go, we stock a wide range of climbing items, including climbing shoes, harness's, chalk bags and more. So if you have a loved one who's into climbing or wants to get into climbing, take a look at our gear.
Climbing chalk bags are a great gift at an adorable price! Shop them here.
If you want to find out more about climbing and learn a bit about it, you can check out our Climbing Guides on our YouTube channel here.
Family Presents
If you're buying for those who have little ones, then getting gifts which the whole family can benefit from is a great idea for Christmas! We have a huge selection of child carriers, perfect if your friends have just had a baby or ideal for anyone with small children. We've picked this one out especially for Christmas this year, the Little Life Ranger S2 Child Carrier, which is packed with fantastic features so you can get the little ones outdoors this winter!
To make things easier, we've put together a page with all our gift ideas in one place!
We hope you find the perfect gifts for your friends and family to make Christmas 2022 super special!
All the best from everyone here at Go Outdoors.
Want to read more great content from us? Check out our blog for more advice and inspiration.