Our team at Go Outdoors set off for a fun-filled adventure day out. Read on to find out what we got up to…
We packed our bags, prepared our gear and set off for a day of climbing with Black Diamond. We visited Stanage Edge, a gritstone escarpment in the Peak District, famous as a location for climbing. As beginners to this exciting sport, we were lucky to have the expertise of Black Diamond, the connoisseurs of climbing, showing us the ropes.
Black Diamond® Equipment, based in the United States, have designed and constructed world leading climbing, skiing and mountain gear since 1957. During our day of climbing, we tested out their fantastic equipment, all of which we sell here at Go Outdoors!
Check out our video below to see how the day went…
The Equipment
Men's Half Dome Helmet
Black Diamond have redesigned the Half Dome to give it a new lower profile suspension system which is sleek, light and strong. The new system features a one-handed dial combined with streamlined headlamp clips to maximise comfort whilst keeping the design simple. The updated chin strap is easier to adjust for comfort, speed and safety on the rock.
Shop the Men's Half Dome Helmet here
Momentum Harness Men's Package
With everything you need to get started in the gym or at the crag, the Black Diamond Momentum Package is a complete, convenient package for all-around climbers, featuring our most popular harness for all-around use, the Momentum.
Shop the Men's Harness Package here
Women's Momentum Harness
A cleverly designed and perfectly positioned harness to cut down on set up and maximise climbing time. The waistbelt is pre-threaded and super-quick and easy to adjust. It also has a Dual Core Construction™ to promote maximum comfort. TrakFIT leg-loops are easily adjusted to suit your preferences and the conditions, giving you ultimate control and peace of mind on the crag.
Shop the Women's Momentum Harness here
ATC-XP Belay Device
A versatile yet simple-to-use belay device for general rock climbing and mountaineering. (This piece of equipment is used to control the rope when belaying. Belaying is where the person at the bottom of the ascent controls the safety of the rope for the climber so that he/she doesn't fall).
Shop the ATC-XP Belay Device here
Stopper Set Pro (1-13)
A set of thirteen stoppers racked onto an OvalWire carabiner. (Stoppers are a form of protection when traditional climbing, which are wedged into cracks in the rock. The climber would then attach a quick draw to the stopper and the rope would feed through the quick draw, enabling the climber to ascend whilst being protected in case of a fall.)
Shop the Stopper Set Pro (1-13) here
Camming Devices
We used a variety of camming devices from Black Diamond. These devices are also a form of protection, consisting of a number of different cams that all pull together on one axle to lock in place on the rockface, thereby ensuring that the climber will be supported at all times should they lose their grip on the wall or rock for any reason.
Our Thoughts
Climbing was much more fun than I expected, it's such a great activity to do with a bunch of people because you're all constantly learning and encouraging each other to do well. It's also a lot more challenging than I anticipated, there's always new things to learn which makes it so exciting!

Rebecca Everett, Social Media Executive

The Black Diamond equipment was comfortable, fit well according to my size and was easy to use and adjust. The helmet struck the balance between style and performance/practicality, as did the harness. The chalk pouch was convenient, it fit nicely onto the harness and adjusted to fit how I wanted it to around my jacket. I'd recommend Black Diamond as a go to brand for new climbers and experienced climbers alike.

Natalie Byrne, Outreach Manager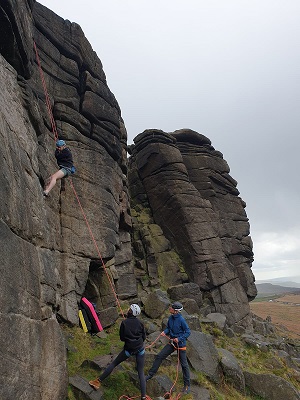 If you want to try climbing for the first time perhaps start indoor with bouldering, and then when transitioning to outdoor climbing, always make sure to go with someone experienced. They'll give you the confidence you need to enjoy yourself.

Daniel Stansfield, Graphic Designer

Fancy trying our climbing yourself but not sure where to start? Take a look at our Climbing for Beginners blog for further information, advice and top tips on climbing.
From climbing shoes, to helmets, to harnesses and protection, you can get everything you need for all types of climbing here on our website.