There is no easier way to get the kids out enjoying the outdoors than on a bike. Cycling is super fun for all ages and can be a great form of exercise whilst in the great outdoors.
Here we've compiled a list of 15 fantastic family friendly cycle trails around the UK for you to try, and while most of the trails also accept walkers and even horse riders – you can't go wrong with taking them on, on two wheels.

Monsall Trail, Peak District, England
The former midland railway line runs for 8.5 miles and is a traffic free route. Running between Chee Dale and Bakewell, this route takes in some fantastic Peak District scenery as well as going through some old railway tunnels, giving it an extra bit of adventure for the kids.
Why not try: Monsall Trail
---
Tarka Trail, Devon, England
The Tarka Trail is a selection of paths and trails in North Devon around Barnstaple. The total trail covers roughly 180 miles, but there is a great section of the trail between Braunton and Meeth that is traffic free and at 31 miles long, it's suitable for most riders to take on in varying lengths. The Tarka Trail follows the footsteps of fictional Tarka the Otter from the book of the same name, so it has an added bit of fun to get children interested.
Why not try: Tarka Trail – Braunton to Meeth
---
Glasgow – Loch Lomond Cycleway, Scotland
One of the first long distance cycle paths in Scotland, this reasonably traffic free route will take you from just outside Glasgow to stunning Loch Lomond (or however far you wish to go with the kids). En-route the trail runs parallel to the river Clyde and passes by a few train stations on the Glasgow – Balloch train line, this means if legs do get tired, you can simply hop on the train to go further, or come back. As well as the fabulous sites of Loch Lomond, you will also pass Dumbarton Castle along the way.
Why not try: Glasgow – Loch Lomond Cycle Way
---
Mawddach Trail, Snowdonia, Wales
Nearly 10 miles of disused railway along the Mawddach estuary make up the Mawddach trail making it's way from Dolgellau to Barmouth. With most of the trail being alongside a disused railway, it means the trail is almost exclusively traffic free, which makes it ideal for young riders. The trail is one of Britain's best loved railway trails because of the stunning views throughout, along with a couple of RSPB nature reserves and fantastic views over the estuary.
Why not try: Mawddach Trail
---
Bewl Water, Kent, England
Bewl Water is the largest stretch of open water in the South East, we've also featured Bewl in our 'Lakes, Lochs and Reservoirs' blog because it makes a fantastic day out for all. Set in an area of outstanding natural beauty, you certainly won't be short of views and things to pick your interest as you take on the 12.5 miles of track around the reservoir. For tired legs, there's always the water taxi to carry you back to the start.
Why not try: Bewl Water Cycling
---
Kielder Forest, Northumberland, England
Kielder Forest and Water Park offers a number of fantastic trails for all abilities. Depending on what type of cycling you wish to take on, you can be treated to lakeside views, or road trails that take you into the surrounding area. Though many of the routes here are family friendly, we'd recommend the Lakeside way, a route that takes in the outside of Kielder water and offers up some stunning lakeside views.
Why not try: Trails in Kielder Forest
---
Ayrshire Coastal Cycleway, Ayrshire, Scotland
A 19 mile stretch between Irvine and Ayr, this route is mostly traffic free and takes in some fantastic coastal views and views of the Isle of Arran along the way. The route is mostly coastal, but does come inland through two Scottish wildlife reserves, so it's certainly no hardship to drift away from the coast. Take on the full path, or shorter portions by taking advantage of the local railway.
Why not try: Ayrshire Coastal Cycleway
---
Cardiff to Castell Coch, Wales
A short 7-8 mile track from Cardiff along the Taff corridor to a fantastic pay off when stunning Castell Coch appears before you. This is a section of the 55 mile Taff Trail which will take you all the way from Cardiff to Brecon. To start the journey you'll pass Millenium Stadium and head out along the River Taff toward the relatively modern Victorian castle, which with it's fairytale look is sure to be a hit with the kids.
Why not try: Cardiff to Castell Coch
---
Tissington Trail, Derbyshire, England
A 13 mile route from Parsley Hay to Ashbourne, originally the Buxton to Ashbourne railway line, which makes it ideal for all riders and traffic free. The trail is mostly flat, which is often welcome info for family riders, along the way you can also visit a restored old signal box (and even go inside) and a 600 metre tunnel into Ashbourne.
Why not try: Tissington Trail
---
Lagan & Lough Cycleway, County Antrim, Northern Ireland
The full route clocks in at 21 miles and links Lisburn, Belfast and Jordanstown, but obviously take on as much of it as you can with enough energy to get yourself back based on the riders in your family. The trail is mostly traffic free, aside from where towpaths are cut by roads. Along the way you'll pass Belfast Lough, heading along the banks of the River Lagan with great views and photo opportunities along the way.
Why not try: Lagan & Lough Cycleway
---
Forest of Dean, Gloucestershire, England
There's something for everyone in the Forest of Dean, from hardcore mountain bike trails to family friendly trails. The Forest of Dean is the oldest oak forest in the UK, making it a stunning area of natural beauty. The family friendly trail is simply called 'the family trail' and is roughly 12 miles in length. The route takes in old railway lines and wide stone paths with routes connecting to local villages.
Why not try: GO Outdoors Guide to Forest of Dean
---
Elan Valley Trail, Powys, Wales
The Elan Valley Trail is another trail that is largely traffic free making it ideal for youngsters and novice cyclists. The trail is an 18 mile round trip that will take you from Cwmdeuddwr along the old Birmingham Corporation railway line up to the four reservoirs in Elan Valley which feed water into Birmingham finishing up at Craig Goch Dam, before you make your way back. The connected reservoirs make for fantastic scenery on this (mostly) tarmac'd trail (The northern section of the trail will be more off road).
Why not try: Elan Valley Trail
---
Loch Leven Heritage Trail, Kinross, Scotland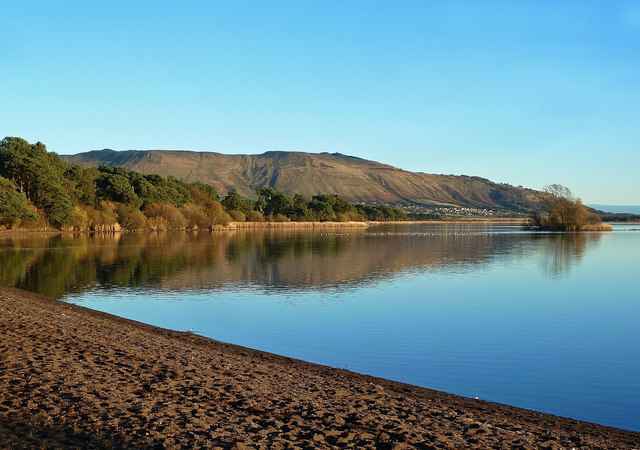 This circular route around Loch Leven is a great family day out as it takes in the historic and cultural heritage of the area. With a number of points of interest on the trail, your trip may be a little stop/start with photo ops. The map on the link below points out places you can see on the trail, including Lochleven Castle which sits on a small island in the Loch. Alongside these points of interest, it's also a fantastic area for wildlife spotting, including: Otters, Osprey and Kingfishers.
Why not try: Loch Leven Heritage trail
---
Red Squirrel Trail, Isle of Wight
The Red Squirrel trail epitomises family friendly cycle trail for us, it's fun for all ages and gives you plenty of excuses for a stop/start trip – so rest is easy to come by. The trail stretches for 23 miles and features the old 'Troll Trail'. Along the trail you'll find sculptures inspired by the wildlife in the area (which is abundant and well worth taking a camera), but the stars of the show are the trolls the trail was originally named after. Lurking here and there, under the many bridges along the trail you'll find trolls hiding waiting to be discovered. Not a fan of trolls? Keep an eye out for those lesser seen red squirrels that the trail is now famous for.
Why not try: Red Squirrel Trail
---
The Strawberry Line, Somerset, England
The Strawberry line is an ambitious project to create a path from Cheddar to the coast, and while the project is ongoing, the longest stretch of the trail is a 10 mile stretch between Yatton and Cheddar, which makes for a great family cycle ride. Travel along the old rail path toward Cheddar Reservoir and Cheddar Gorge, passing through the apple orchard of a rather famous cider company along the way.
Why not try: Yatton to Cheddar