Our North Ridge brand ambassador, Gethin Jones, joined Mountain Rescue at Edale, to find out about the work these remarkable volunteers do and how important it is to stay safe whilst out on the hill.
Mountain Rescue England & Wales were called out to 3,367 incidents in 2022, and Edale is one of their busiest teams in the country with over 160 of those incidents belonging to this area alone.
Gethin caught up with Rachael Gatehouse, one of the Edale Mountain Rescue team members, for some top tips on how to stay safe whilst exploring the outdoors. He also took place in a rescue re-enactment to find out what it would be like to be 'saved' by Mountain Rescue on the hill. Watch the video below to see how it went…
Who are Mountain Rescue?
ON CALL 24/7: 365 DAYS OF THE YEAR: WHATEVER THE WEATHER
Mountain Rescue are a team of volunteers who are on call 24/7, 365 days a year to help the public when they are in danger. From recovering climbers from crags, to reuniting lost walkers with their friends, and ensuring casualties are safely delivered to vital hospital care, Mountain Rescue are on hand for emergencies in mountainous environments. However, the team is sometimes also used to apply to search and rescue in other wilderness environments.
They regularly help search for missing children and vulnerable adults, on and off the hills. They search river banks and swift water, and wade chest-deep through flooded urban streets aiding swimmers, kayakers and devastated homeowners. They also rescue a number of dogs, cows, sheep and any number of other animals, from all manner of inaccessible places.
There are 47 volunteer mountain rescue teams and eight regional bodies in England and Wales, across the following eight geographical areas:
Lake District
Mid Pennine
North East
Peak District
Peninsula
Yorkshire Dales
North Wales
South Wales
There are also two associate teams, based in South West England.
How is Mountain Rescue Funded?
Mountain Rescue is a charitable organisation that is not backed by government funding and instead relies solely on donations from the public and businesses. The volunteers themselves take up their own time, unpaid, and often use their own petrol to travel around.
At GO Outdoors we're proud to have donated to Mountain Rescue, helping the volunteers do what they do best. Since 2015 we have donated a total £1.28 million to Mountain Rescue. We appreciate the work these teams do and wish to help them as best we can so they can continue to save lives!
How Can You Help?
Without support and generosity, Mountain Rescue simply cannot function, that's why they need your help! Here are some ways you can help to keep Mountain Rescue in action…
Donate: If you'd like to help the Mountain Rescue teams continue to do their work, you can donate here. All donations are greatly appreciated by the team.
Join Basecamp: You can become a Basecamp Member by paying a subscription either quarterly or yearly. Being a Basecamp Member entitles you to the Mountain Rescue quarterly magazine so you can stay up to date on their activities.
Fundraise: Whether you host a bingo night, run a marathon or organise a cake sale,there are a number of ways you can raise funds for Mountain Rescue.Organising and running a fundraising event can be a challenge in itself. Luckily Mountain Rescue have created this handy guide to explain the ins and outs!
Become a volunteer: Fancy being a Mountain Rescue volunteer yourself? If you're a keen mountaineer, at home in the mountains, and you have a good knowledge of rope work, navigation and a basic understanding of first aid, you could volunteer to join your local team and undertake training to acquire the vital mountain rescue skills required.
Find out more about what it means to become a team member here.
Find your local team here and get volunteering today.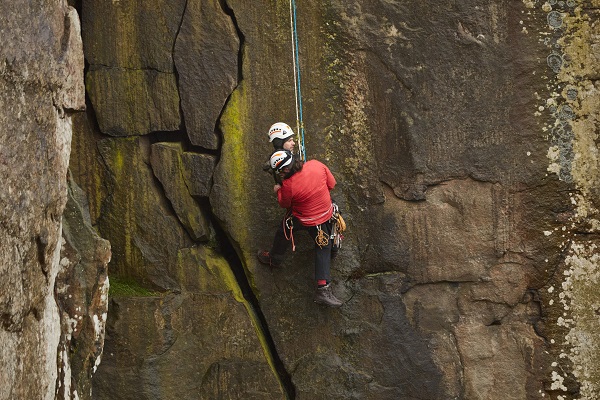 How to Stay Safe on the Hill
Staying safe when you head out on the hill is important. Ensuring you're wearing the appropriate footwear and clothing as well as taking the correct equipment with you, is vital for your safety.
Equipment and/or footwear issues account for an average of 5% of callouts to Mountain Rescue. This is something that can easily be avoided by simply wearing the right gear and taking the right equipment with you!
This handy list will ensure you have everything you need to stay safe on the hill. And if you don't have everything, it could be worth investing in some new gear!
Ample food and water for the day ahead – even in cool weather, it's easy to get dehydrated.
Map and compass, torch and head torch. And a whistle.
If you carry GPS, make sure it's set up with the correct map and grid data.
At least one member of the party should have a watch.
First aid kit including essential medication.
Climbers and mountain bikers should wear a helmet.
Mountain Rescue advise that you always do the following before heading out on an adventure:
Charge your phone
Plan your route carefully
Check the weather
Leave details of your route plan with a friend
Whilst on the hill, Mountain Rescue advises you to:
Keep an eye on the weather
Keep the party together
Eat and drink well through the day
Watch signs of hypothermia – Disorientation, confusion, shivering, tiredness, pale complexion and loss of circulation in hands or toes.
Remember: If you go out alone, be aware of the extra risk. Let people know your route and when you expect to finish and then stick to it as far as you can. If your plans change, let them know that too.
For more information on how to stay safe on the hill, visit adventuresmart.uk
Gethin's Brand Partnership with North Ridge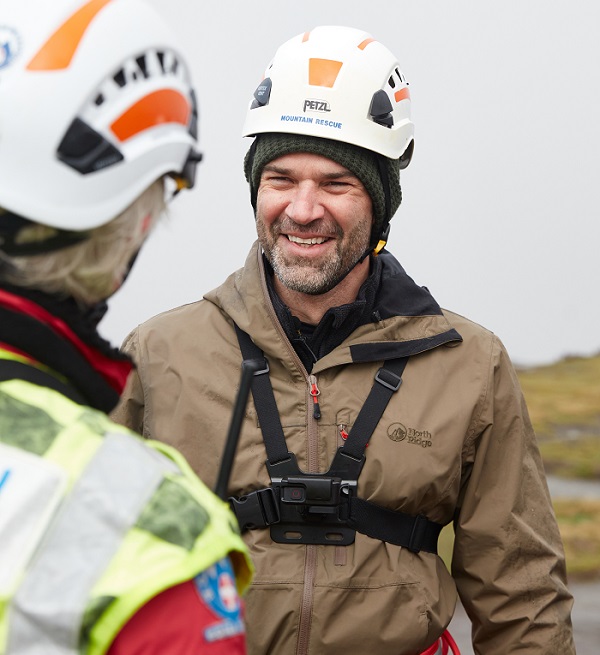 Gethin joined the North Ridge family in March 2023, becoming a brand ambassador for this versatile, multifunctional, urban-outdoor brand.
North Ridge is a brand that creates easy-to-wear clothing that's ready for the outdoors, suited to both town and trail adventures. As the latest North Ridge ambassador, Gethin truly embodies the brand's ethos!
Want to shop Gethin's look? Browse the North Ridge collection now!
Looking for more inspiration? Head to our blog to read more unbeatable content from us!