BBQs in Islington's public parks are now allowed after a ban on them was revoked by the council earlier this year.
This Summer, residents of Islington North London will be able to grill in peace, as the council have revoked their prohibition of grilling of food in its parks. Meanwhile residents of other boroughs may just have to smell the sweet scent of Islington's victory against the ban, as places like Camden still consider the use of BBQs a safety hazard.
Parks can be the only place for some garden-less residents of the London town to enjoy BBQs, and the new rules allow everyone to enjoy a burger or two in places like Primrose Hill, Shoreditch Park and Highbury Fields, with the belief that residents can and will clean up and act responsibly. If you're looking to celebrate with a grill up in your local park, or in your garden, why not check out these GO Outdoors BBQ's?
Hotspot NoteBook Grill/BBQ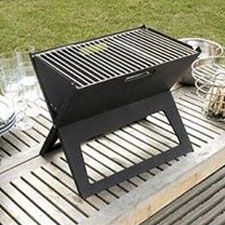 Great for using at the park or on a campsite, the Hotspot BBQ is a handy collapsible charcoal barbecue, that you can set up anywhere or pack away in a matter of seconds, all under 4g of weight!
The sturdy base that won't scorch the council grass, and  the cooking area includes 3.5mm chrome cooking bars on a 44cm x 30cm space, enough for a few bangers!
The Royal Table Top Gas Barbeque is a table top barbeque that runs directly from regulator controlled gas bottles and comes complete with lava rocks and a red metal lid for maximum heat cooking, great for hungry families or friends. Because it's gas operated, you don't have to refill with charcoal and there is no need for briquettes or firelighters just attach to the gas (and you're cooking on gas!)
Kingfisher Basic Barbecue

If you want a basic BBQ, the Kingfisher Basic does the trick. Made with wide side vents and a wind shielding area, the basic can be filled up with coals and firelighters and get's going without much work. As well as a grill that can be placed higher or lower to the flames dependent on what you're cooking, the Basic BBQ also includes tools for flipping, turning and poking your dinner.
If you want the basic form of BBQ- then pick the Landmann Instant BBQ.
It lights easily and instantly with a match at one corner, after 10-15 minutes the coals will have burned through and lost any fuel fumes, and you're ready to cook. The stand allows you to place the tray on the park grass without scorching it.
Do you have any favourite recipes for your BBQ? Let us know for our future blogs!
Happy grilling!
Elaine