In the UK we don't 'staycation', we 'holistay'. And if you're looking for the perfect British-based bliss this summer then Forests have everything you need. Want some peace and quiet to escape the stress of 2020 – look no further than the forest. Want abundant wildlife? = forest. Want high octane adventure amongst the treetops? Guess what, forests are the place to go.
We have partnered with Forest Holidays to bring you the very best that the British woodland has to offer. Read on for just a few reasons why the trees are the perfect backdrop for the time of your life this year, whether you are a family, a lovestruck couple, or just a group of mates.
Family 'Holistays' in the Forest

With 11 secluded locations across the UK, the cosy cabins of Forest Holidays offer the perfect backdrop to every outdoor adventure. Here's everything you need to know about planning a family 'holistay' in the heart of the forest.

Connect with nature from a cabin under the stars
Family holidays work best when they're fuss-free and a break in the forest is no different.
Forest Holiday cabins offer all the benefits of being tucked away in natural woodland with all the comforts you need to make your holiday feel like home.

Splash around in your personal outdoor hot tub as the sights and sounds of the forest come to life, stargaze from your outdoor decking with a slice of pizza in hand or simply savour the excitement of sleeping under the trees, deep in the forest.

And when rainy afternoons strike the fun doesn't have to end. Just order a range of tasty meals and drinks which can be delivered to your cabin door contact-free. All that's left to do is sink into your sofa and watch the latest movie releases with the in-cabin entertainment pack. Nice.

Discover outdoor activities all ages will love
It doesn't matter if you're holistaying with little ones or ever-so-slightly-reluctant teenagers, in the forest there's something to keep everyone entertained: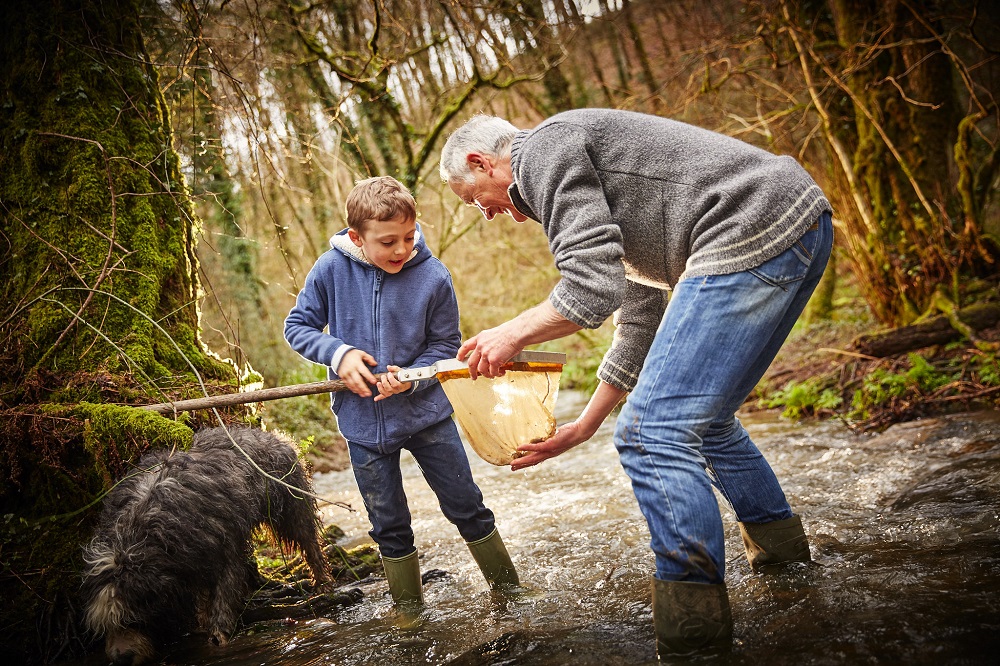 Get everyone moving
For a rush of endorphins, add some adventure activities to your booking (think kayaking, archery, horse riding and hiking) or learn forest secrets in sessions led by dedicated Forest Rangers. From outdoor survival experiences to guided nocturnal trails, your trip won't be complete without a Forest Ranger activity or two.

Arrange hassle-free days out
Forest Holidays' friendly location team is always on hand to help you plan epic day trips.
Talk to them about nearby National Parks, all-weather attractions, hiring bikes and the best events happening locally and on location.

Keep it simple
With the forest as your playground, fill your days with good old fashioned fun. Whether you're building dens, jumping in streams or getting everyone together for a game of footy in the fresh air, breaking away from the usual routine is easier than ever.

And for an extra surprise…
Before you book, earn extra brownie points with the kids by adding a Go Ape zip wire experience to your break. Forest Holidays' guests can enjoy 10% off at Go Ape locations across the UK. Fly over the trees, conquer tarzan swings and tackle rope bridges on the ultimate day out in the forest.

The easiest way to plan a Great British holistay
While all Forest Holidays' locations work well as a base for family breaks in the UK, there are a few firm favourites with guests.

Cropton and Keldy (both in North Yorkshire) tick all the boxes with coast, countryside and moorland close by, while Deerpark is a super quick 15 minute drive from the stunning bucket-and-spade beaches of Cornwall. And if you want to bring the family dog, there are pet friendly cabins at every single location. Pawfect.

Wherever you choose, a holistay could help you discover a whole new world on your doorstep. But it's only with a Forest Holiday you have the added benefit of an entire forest at your feet, ready to be explored…
A Romantic 'Holistay' in the Forest
The secluded glades and sweeping views of the forest make for the ultimate romantic break. And with more of us opting for UK staycations and holidays closer to home, a forest holiday feels like the natural choice.

The benefits of spending time together in the forest
Did you know there's a scientific reason the forest feels so romantic? Researchers have found walking in the forest can lower your heart rate, blood pressure and stress levels. While another study suggests simply looking at trees creates a calming effect – creating the perfect ambiance for your romantic break.

These findings are echoed in research carried out by another of our partners – the Forestry Commission. In 2019 they asked people how the forest made them feel. Almost everyone answered "relaxed" and "stress-free", describing a sense of freedom you can only find in the forest. Ideal for escaping the daily routine to rekindle that spark.

A breathtaking natural setting for grand gestures
At Ardgartan Argyll, pine covered mountains sweep down to meet cosy lochside cabins. Hidden within the Loch Lomond and The Trossachs National Park, the wild beauty of the landscape makes it one of Forest Holidays' most romantic locations.

Each cabin comes with an outdoor hot tub, some of which sit on the shoreline and boast epic mountain views (perfect for a proposal). The location is also home to the one of the UK's largest National Nature Reserves, The Great Trossachs Forest, where you can spend hours hiking to find your own hidden beauty spots.

You can also add romantic extras onto your booking (rose petals, champagne and chocolates are the classic favourites) to make sure forgotten gifts don't ruin a special celebration.

Be the first to stay in Delamere Forest
The grand opening of Forest Holiday's brand new location offers another excuse to surprise your loved one with a holistay.

Delamere Forest opens Spring 2021 and boasts Forest Holidays' cosiest touches yet. If you book for the opening weekend you'll be the first to stay in new White Willow Premium cabins, tucked away in a corner of the Cheshire Plain and designed with the natural world in mind.

Pop the prosecco and and fire up the outdoor pizza oven as you relax under a canopy of broadleaf and evergreen trees. Or open up the bi-fold doors straight out into a forest filled with tortoiseshell butterflies, darter dragonflies and green woodpeckers.

And for those cosy evenings in? Enjoy added comfort with fluffy robes, a super squashy sofa and the crackle of a rustic log burner for romantic breaks at their most simple. Nice.
A Forest 'Holistay' For Larger Groups

Spending time with the people we love has never been more important.

But with modern life being so hectic, getting the entire gang to finally organise that special group trip can be tricky. So why not make things easier with a 'holistay' in the forest? We've turned to our expert partner at Forest Holidays to provide some inspiration.

Whether you're thinking about arranging a reunion with old friends or a meetup with extended family, here's how you can give everyone something to look forward to with a forest holistay to remember…

Start writing or type / to choose a block
Seek adventure in all corners of the UK
When you holiday closer to home you can wave goodbye to complicated logistics and instead, ease straight into vacation mode. Forest Holidays has comfy cabins in 11 forests across the UK so it's easy to find a location near you.

Sherwood Forest in Nottinghamshire is a great shout for group getaways. It's slap bang in the middle of the UK – ideal if you've got family that live all over the country. Another handy option is Blackwood Forest which offers a tranquil woodland base you'd never believe is just an hour away from the city lights of London.

Start writing or type / to choose a block
Our tip? If you need a little extra space opt for a quirky treehouse cabin. With a design that blends into the forest landscape, extra rooms, woodland views and a barbecue for dining alfresco under the stars.

An easy way to plan group outings
With a Forest Holiday, there's no feeling of being stuck in a holiday village bubble.

These are breaks designed to be 'unpackaged' so everyone in the group is kept happy – whether you're a group of foodies searching for the best locally-sourced produce or a big family after proper pints in country pubs.

All 11 of Forest Holidays' locations can be found in off-the-beaten-track spots around the UK.
This means rather than be tied to all-inclusive meals and onsite entertainment you're free to venture out and experience a true flavour of the local area.

So if you're looking for somewhere to host that group birthday meal or engagement celebration, why not plan something special and help get small, local businesses thriving again? Good stuff.

Experience the forest in winter on a pre-Christmas break
City breaks and beach vacations require a steady stream of sunshine to ensure good moods all round. But with a holistay in the forest, every season has something special to offer.

A winter holiday could be just what you need to bring everyone together and blow the cobwebs out before the year is over. Forest Holidays say the most popular choice for big groups is the pre-Christmas break, when frosty branches and snowy backdrops make for a wonderful holistay setting (and an excellent Instagram snap).

Pack your warmest waterproofs and sturdiest boots and enjoy walks in the crisp winter air before returning to a steaming hot tub. Or ease into the festive season with outings to Christmas markets complete with plenty of mulled wine. The perfect way to end the year with the ones that matter most.
Find out about breaks with Forest Holidays online or browse the rest of their beautiful locations to find a fit for your next holistay.