Out with the old and in with the new. It's time to set new challenges, face new fears and achieve new goals. And what better way to do it is there, than to get outside, enjoy nature and keep active? As 2021 begins, you might be wondering what outdoorsy events you can get involved with in the UK. That's why we've handpicked a selection of our favourites taking place this year and created the Outdoor Events 2021 blog.
*Please note, some of the event dates listed below may change and could be cancelled all together due to the impact of COVID-19. Check with the event organisers before attending*
This Triathlon-style charity fundraising challenge consists of cycling, hiking and canoeing, whilst taking in the scenic views of globally renowned Brecon Breacons National Park in Wales. Starting at sunrise from Henderson Hall in Talybont-on-Usk, the race will begin with cycling, following Brecon and Monmouthshire canal. You will then complete an 8 mile walk, followed by more cycling, a 2-mile canoe race and then a final cycle until you reach the finish line where you'll be greeted with a BBQ and bubbly!
The UK's biggest inflatable 5km obstacle course has now got even bigger for 2021! Situated at Kempton Park Racecourse in Sunbry-On-Thames, London, the course consists of 28 huge obstacles to tackle, providing hours of laughter, fun and excitement for the whole family!
Put your stamina, teamwork and mental grit to the test with a physically and mentally challenging 12-hour obstacle course held at Belvoir Castle in Lincolnshire from 8pm till 8am the following the morning. You can complete the course individually or in a relay team of two or four people. The obstacles consist of a range of muddy activities, testing your ability in many areas including climbing, balancing, strength, speed and team work. So, get dirty, step outside your comfort zone and endure in a unique experience of challenges…are you ready?
It's in the name…this event involves a bike ride where by you travel from coast to coast! Starting in Seascale and finishing by the sea in Whitby, this 150-mile journey takes you through three of England's finest National Parks, allowing you to soak up magnificent views and explore England's true heritage. This iconic route is cycled by hundreds of people each year usually over 4 or 5 days, but can also be achieved in just 1 day! Are you up for the challenge?
Challenge yourself and discover more about London in this super fun event that can be enjoyed with family and friends of all ages. You will be provided with a map and a series of questions which will help you navigate the route and uncover city gems along the way. Take a picnic and enjoy a full day out, whilst completing the 10km sponsored walk challenge and raising money for The Royal British Legion.
This is certainly not one for the faint hearted. Held in Bolton, Greater Manchester, the Iron Man UK involves a 2.4-mile swim, a 112-mile bike ride and a 26.2-mile run (equivalent to a marathon). So get training, get fit and get ready for this ultimate challenge. This race is known for its iconic spectator support, incredible North West English bike course scenery, and impressive finish line in the heart of the town centre. Do you think you've got what it takes?
Take the opportunity to cycle 100 miles on closed roads around London with 25,000 other cyclists, on a course which is based on a route made famous by the 2012 Olympics Road Race. The ride begins in the Queen Elizabeth Olympic Park, passing stunning countryside and climbs of Surrey hills, before finishing on the Mall in front of thousands of spectators. The Prudential Ride is the perfect way to explore the great outdoors and test your cycling abilities.
The largest of its type in Europe, the Manchester 10k run takes place annually and has done since 2003. Starting and finishing in Manchester city centre, the course passes a handful of famous landmarks including Old Trafford stadium, the Coronation Street set and the Imperial War Museum North. Welcoming around 20 to 30 thousand participants every year, the run is a great opportunity to explore the heart of Manchester and meet new people – you can even experience Manchester's buzzling nightlife with a few pints in the bars afterwards!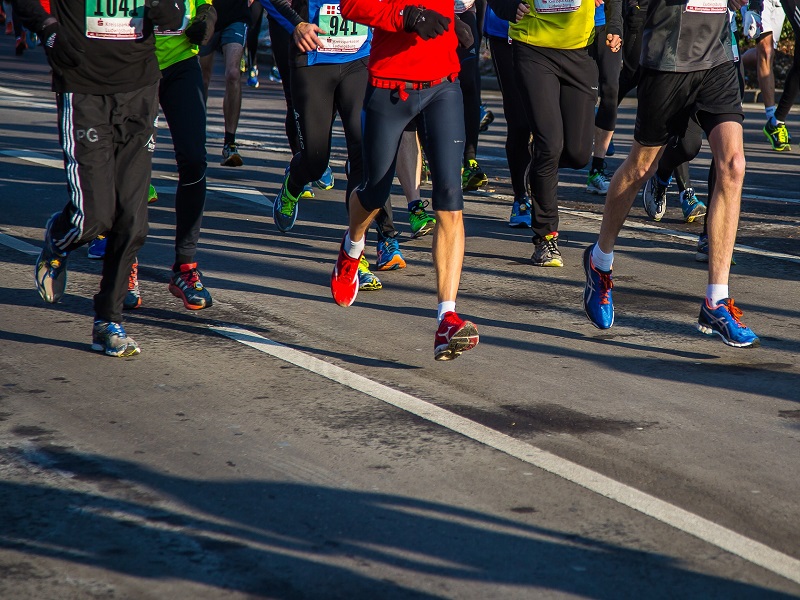 Perfect for beginners or those wishing to complete a shorter distanced triathlon, this event is held at Stratford Leisure Centre in Stratford-upon-Avon and entails a 400m swim, a 18km cycle and a 5km run. There is also a shorter option available which includes the same cycle distance but with a 200m swim and 2.5km run. Take on the challenge alone or team up with your buddies in a relay team of 2 or 3 for a fun, exciting and rewarding day out!
Fancy running a race with a difference? Canicross Multi Terrain Races is a run held at Pembley Country Park in Carmarthenshire that allows you to take along your furry friend! Run with your dog for a distance of either 5, 10 or 20km depending on your ability and receive a medal on completion, and maybe even a trophy if you're in the top 3!
There you have it – our top picks of outdoor events in 2021. So whether you're into long walks, cycling races, or obstacle course challenges, we hope there's something here for you to get involved in this year!
If you're after clothing, shoes or any other accessories which you'll need for these activities, then have a browse using the links below!