We would like to introduce our brand-new North Ridge ambassador, Sean Fletcher, to Go Outdoors! We are delighted to announce this unbeatable collaboration, as it brings together our iconic brand with an outdoor enthusiast and mental health advocate.
We recently caught up with Sean to find out what the outdoors means to him…
Let's Meet Sean Fletcher
Sean is a journalist, tv presenter, lover of the outdoors and mental health campaigner all in one! A dad of two, he is known for a range of programmes on ITV, the BBC and Channel 4 and expresses a passion for the outdoors through his career and upbringing.
"I find spending time in the beautiful countryside we have here in the UK cleansing, restoring and revitalising" – Sean Fletcher
Sean's love for the outdoors began when he was just 13 years old, when his parents moved from a town to a small holding in the Essex countryside. His mum started breeding pigs there, which lead Sean to feel a connection to the countryside and the people who live and work in it. From then on, Sean has been involved in the outdoors in both his career and personal life, and believes the outdoors is important for our mental health.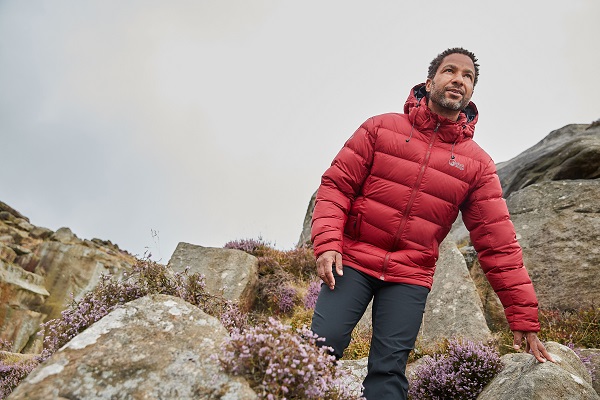 Sean is also an ambassador for Young Minds. Whilst being a mental health campaigner, Sean's particular focus is on children and younger people; he feels that we need to improve the mental health support for that group of our population. Having a North Ridge ambassador as a Young Mind's ambassador too, makes the perfect combination in our eyes.
It's an absolute pleasure to welcome Sean to the Go Outdoors family!
Let's Meet North Ridge
Whatever your mountain, make it an adventure with North Ridge. This iconic outdoor brand blurs the contour lines between trail and town. Blending style with substance, the designers at North Ridge have created a range of quality jackets, clothing, walking shoes and accessories which are all built for spending time outdoors.
North Ridge is a favourite with walkers, commuters and city explorers. Battle unpredictable weather in the collection of waterproofs and insulated jackets; plus, stay fast and light in the range of baselayers, shorts and women's leggings. There's also a fantastic selection of cool and casual graphic tees, and everyday layers to create a statement, even when resting between adventures.
North Ridge will keep you comfortable whether you're pushing the limits or winding yourself down. Made with quality performance fabrics and tailored to fit your needs, the North Ridge range has something for the expeditioner, fitness freak, hiker, runner, or anyone who just loves the outdoors – all designed in a style that looks just as good on the hills as it does in town.
#WhateverYourMountain
The New North Ridge Collection
We are delighted to show you our brand-new pieces from the North Ridge Autumn/Winter collection.
We asked Sean what his favourite piece from the North Ridge collection was…
"Undoubtedly the parker. While filming is fun it's often very cold. The North Ridge parker has been a game changer" – Sean Fletcher
Take a look here at our top picks:
North Ridge Men's Tech Down Gilet
Whether you're commuting or taking a stroll in the Lakes, the North Ridge Men's Tech Down Jacket ensures you're kept warm with an impressive 550 fill power duck down insulation. Two external pockets provide convenient storage, or use to warm up your hands on the go.
North Ridge Men's Traverse Mid Waterproof Walking Boot
Quality leather walking boots with a durable Vibram sole, blending great performance with a classic style. Under foot you have a shock absorbing EVA midsole and durable Vibram® rubber outsole, giving you superb torsional support, grippy traction and cushioning comfort with every step.
Looking for more advice and inspiration? Check out our blog to read more of our unbeatable content.