The GO Guide to Pembrokeshire Coast National Park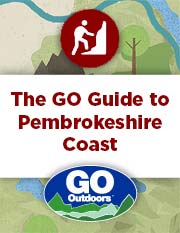 As the only coastal National Park in Britain, the Pembrokeshire Coast National Park offers something different for lovers of the great outdoors. In our guide, we cover off areas for walking, cycling, fishing, family days out and more.
Situated on the west coast of Wales it covers a total area of 612 km² and was first opened back in 1952.
Since then the National Park has grown into one of the most popular tourist destinations in the whole of the United Kingdom. The beautifully preserved coastline appeals to those looking to spend time at the beach while there are also plenty of mountains and hills to go walking or cycling in if you're looking to get some fresh air and exercise.
The area to the north of the National Park is more rugged and tends to appeal to those with a love of hill walking and mountain biking, while the western coast is great for lovers of fishing and watersports.
There are countless beautiful and picturesque towns and villages that are dotted around the National Park, many of which are linked by the 186-mile Pembrokeshire Coast Path that you can either tackle in part or in its entirety. However you choose to do it you are guaranteed to come across spectacular scenery and some of the local wildlife.
From family holidays packed full of activities to quiet camping trips in the tranquil surroundings, the Pembrokeshire Coast National Park has something that will appeal to everybody and here at GO Outdoors we've compiled this in-depth guide that documents a number of the best activities and campsites so you can plan your trip in advance.
We've put together a number of the best walks, mountain bike trails, fishing spots, campsites and family-friendly activities so that everyone is catered for; it's just down to you to plan your trip and to purchase your essentials before you go.
10 Pembrokeshire Coast Walking Routes
10 Pembrokeshire Coast Cycle Routes
10 Places to GO Fishing on Pembrokeshire Coast
10 Pembrokeshire Coast Campsites
10 Pembrokeshire Coast Family Days Out
10 Other Outdoor Activities to Try on Pembrokeshire Coast
At GO Outdoors we've got all that you could possibly need for a trip to the Pembrokeshire Coast National Park including durable, comfortable walking boots as well as stylish waterproof jackets, the latest family tents and much more.