After 2 long years, festival season has been back in full swing in the UK this summer, with no restrictions in place, festival goers have been flocking back to the fields to get back to what they love doing most!
As we start to approach the close of the UK festival season, we thought it's important to go over some festival etiquette, just a few dos and don'ts to follow when pitching up at one of the summers biggest outdoor parties. Here's our top tips on Festival Etiquette.
Follow The Rules
This one may seem a little bit obvious, but it's one of the most important tips on our list! Each festival is different, and will have different rules, allowances and restrictions depending on several factors. It's important that you read up on these before you head out to your festival, as not doing so could result in you having to leave items at the gates, or even worse, being turned away all together. So, to avoid any upset, make sure you give the rules a read.
Festival organisers have gone above and beyond to deliver a long weekend full of live music, fun activities and much more. So show some love and support back to those who made it possible by sticking to the rules that they set out.
Leave No Trace
When we're at home, most of us like to run a tidy ship, but it's a fairly common occurrence that this tidiness goes out the window with some people when they get to a festival. The chilled and breezy nature of festivals gets the better of us and we think it's alright to litter and leave our waste all over the place, someone will pick it up eventually, right?
Where festival sites are cleaned as best as possible before being re-opened to the public, why make more work for those helping with the big clean-up job? There are some things you can do to ensure you help to keep the festival site clean. One golden rule is to "pack in and pack out" which basically means you take out what your take in, including any rubbish you end up with. Take a few bin bags with you to keep on site and keep all rubbish tidy and organised. This way it'll be easier to clear out at home time, and most festivals will have big waste bins on hand for you to throw all your rubbish in at once.
Look The Part
This is more one of the unwritten rules of festival etiquette, but you're going to want to make sure you're looking the part and equipped with all the clothing and accessories you need to make the weekend go smoothly. Now to clarify, when we say look the part, we don't mean we want you to bring the ultimate drip. Just make sure that you bring appropriate clothing for the occasion. Yes, we may be in the peak of British summertime, but a pair of flip flops and swim shorts isn't going to cut it I'm afraid.
Festivals are high-energy events, meaning that for the most part, you're going to be spending most of most days on your feet, dancing in the crowds or sprinting to catch that set you've been hype for all summer! So, you're going to need some sturdy and reliable footwear to take the pressure. A lot of people are happy with just a pair of old trainers, but why not guarantee that your feet will stay comfy and cushioned for every act of the weekend, and pick up some durable walking shoes or boots? Top of the line foot support is guaranteed so you'll be on your toes from the second you get there to the second it's time to pack up camp. We have a fantastic range of walking boots and shoes here at GO Outdoors.
It's not just your feet that need protection! British summertime weather is very well known for its unreliability, so the weather may be looking good, but there's always a good chance you may catch a spot of rain. Grab yourself a waterproof jacket or softshell jacket from our store today, to keep you covered in the heaviest of downpours. Or alternatively, if you want to travel light, pick up a poncho to provide great wet weather protection.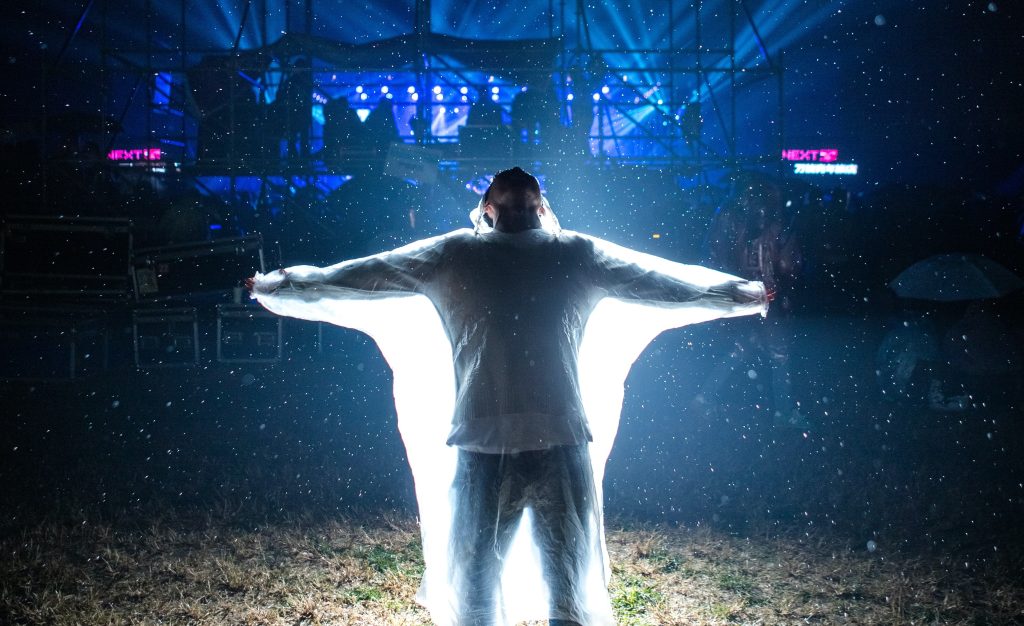 Know Your Surroundings
Festival sites are huge places, fitting in a campsite (sometimes multiple), multiple stages and more space for amusements, shops and food and drink venues, they're like a whole town condensed into one big field. Navigating your way through this can be tricky at the best of times, so it's important to become familiar with your surroundings. Learn where everything is when you first get there and get a good idea of the lay of the land.
Doing this early will make sure your weekend runs a lot smoother and you can relax a little bit, taking comfort in the fact that you won't get lost at every given opportunity. Learning your route from camp to the stages is super beneficial as it reduces the time in your new daily commute and prevents you from wandering in through stranger's campsites in the dark.
Look After Each Other
Possibly the most important rules, and one you should be following at all social events! When at a festival it's important that we all look after each other. We're all here for the same thing, to have a good time and to listen to some of our favourite artists. So we should all be looking out for each other to make sure we're all having the best possible time. If things started to take a turn for the worst in the middle of the crowd, it's no easy task flagging down someone who can help. So it's on us all to ensure that everyone stays safe in crowds and gets the help they need as soon as they need it. So, if someone falls, you make space and pick them straight back up. If someone is dehydrated, try and get them some water, and if someone has a medical issue, you get them they attention they need as fast as you can.
Those are our top tips for behaving yourself at a festival with good festival etiquette. We don't want to be the buzzkill that reminds everyone of the rules, but here at GO Outdoors, we firmly believe that festivals are an iconic piece of British summer and everyone should be able to go and enjoy festivals without the worry of other people getting in the way of their fun. So, by following our tips, you're not only ensuring the best possible festival experience for yourself, but for those around you as well.
Shop now at GO Outdoors to find all the festival gear you need this summer! Check out or guide to last minute festival essentials here to make sure you're well equipped for the occasion. And most importantly, whenever you go, have fun!