Tour De France is back! The 109th edition of this fantastic multi-stage cycle race is beginning this July!
Primarily held in France, whilst passing through other nearby countries, this year the Tour De France will pass through Denmark, Belgium, Switzerland and of course France.
Here at Go Outdoors, we live and breathe cycling and so we're here with all the information you need for the 2022 Tour De France! Whether you're spectating, participating or just love cycling, we have all the important information and a whole load of gear to ensure you're ready for this huge event!
Let's Start with the Basics…
When does the Tour de France start? The 2022 Tour De France race will begin on Friday 1st July.
How long is the Tour de France? The total length of this year's Tour de France race is 3,349.8km (2,081 miles).
Where does the Tour de France start? The Tour De France will start at Copenhagen, Denmark's capital. Denmark will become the 10th country to host the Grand Depart. You can view the full route here.
Where does the Tour De France end? Like every year since the first race in 1975, the final stage of the Tour de France will finish along the Champs-Élysées, a famous street in the city of Paris.
How many stages are in the Tour de France? In this year's Tour De France, there will be a total of 21 stages of the race:
6 flat sages
7 hilly stages
6 mountain stages with 5 summit finishes (La super Planche des Belles Filles, Col du Granon, Alpe d'Huez, Peyragudes, Hautacam)
2 individual time trial stages
2 rest days
1 transfer day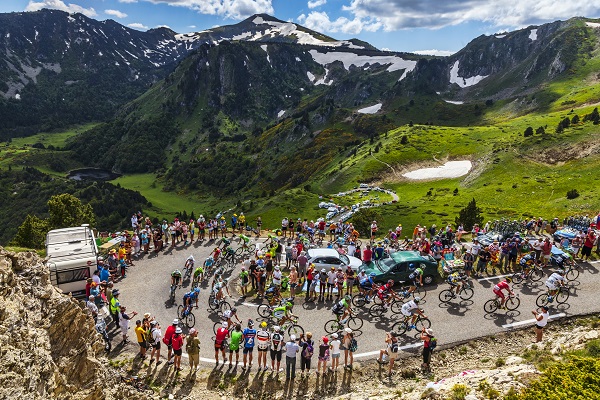 For the Spectators
If you're heading to watch the Tour de France, we have everything you'll need to accompany you on your adventure. From camping chairs to cool boxes, we have all the outdoor gear necessary to ensure you enjoy your trip!
Camping Chairs
Super convenient and ideal for travelling, our wide range of camping chairs are perfect for spectating at the Tour de France. Simply fold them up, pack them away and you're off!
Cooking Outdoors
If you want to cook up a storm whilst on your Tour de France travels, then how about taking a stove or BBQ along with you? Shop our huge range and find the perfect outdoor cooking appliances and accessories so you can dine alfresco without the hassle!
Picnic Equipment
Cool boxes, picnic baskets, blankets and windbreaks are other outdoor accessories which you may need to make your Tour de France experience even better. Shop our picnic range to find what you need today.
Caravanning Equipment
If you're taking your caravan with you along to the Tour de France, then you may need some extra gear for your trip! We have accessories, appliances, toilets, chemicals and everything in between to make your expedition unbeatable!
For the Cyclists
If you're planning your own ride, then you need to make sure you're prepared for the long-distance journey! As cycling experts here at Go Outdoors, we stock everything from bike accessories and helmets, to clothing and nutrition. We even have our very own bike workshops in selected stores, so you can pop in store and have your bike serviced by our specialists.
Take a look at our selection of cleaning products available to purchase here from Go; perfect for when your bike needs a good scrub and clean or some at-home maintenance. From cleaning kits, to brushes, to sprays, we have it all! You can shop all bike cleaning here.
And if you want some extra tips and advice on how to maintain your bike then check out our two blogs; Five Essential Bike Checks Before you Ride and 10 Steps to Getting your Bike Ready for Summer!