Whether it's caravanning, camping or glamping, according to UK holiday firms, staycations are set to see a boom when lockdown is lifted this year. With many travel restrictions in place, holidaying abroad may be off the cards, but there will be hope for UK residents to experience a staycation in 2021.
With a year of lockdowns and restrictions throughout 2020, outdoor activities including walking, cycling and running became increasingly popular and the demand for outdoor adventure grew. A combination of on-going restrictions, and the challenges surrounding overseas holidays, means that this year we expect to see a rise in bookings for camping trips and caravan parks. Planning a staycation in 2021? Here are some great tips and advice to help you Go Make the Most of It!
Book With Confidence
Before booking your getaway, you must consider a few things to ensure both your reservation and money are in safe hands. You should firstly consider booking somewhere with free cancellation up until the day you're due to go, or at least only a couple of days prior. This will mean if your trip is cancelled due to the impact of Covid-19, you won't lose any money.
And if you can't get an offer of free cancellation, another good idea would be to take a look at the company's booking and cancellation policies before going ahead. Some camping and caravan holiday firms are providing coronavirus booking protection policies, such as Cool Camping, who are offering low deposits and flexibility to move bookings up to the end of 2021.
"Our Coronavirus Booking Guarantee gives people the flexibility to easily rebook their holiday if they are affected by coronavirus, which also allows for greater confidence to book ahead."

James, Editor of Cool Camping

Ensuring that there are policies in place, will give you peace of mind before booking, so take a look at them first!
Sounds obvious, but it is definitely worth checking that the holiday site you wish to go to is open before going ahead. Many companies may not have updated their websites and could be closed due to Covid-19!
Stay Local
If you're planning a camping or caravan retreat, how about finding somewhere local? With the impact of Covid-19, not travelling far seems like the best option for holidays and you'd be surprised how many campsites are near you! Click on these websites below to find the perfect camping and caravanning sites near you!
If you're thinking of booking a camping, glamping or caravanning holiday this year, make sure you plan ahead to avoid disappointment! It is clear that UK staycations are already getting booked up for 2021.
"Already, the indications are that people want to plan ahead and get holidays in the diary but don't yet have the confidence to book a trip abroad. Bookings this year have been extremely strong in the UK, as campers plan ahead for summer."

James, Editor of Cool Camping
Social Distancing
You may understandably be wary to travel or go on holiday due to coronavirus. However, social distancing is still in place and, in many ways, camping life fits in with this pretty easily. Sleeping in your own tent, pod or caravan is naturally distancing from other guests, and evidence suggests that the virus travels far less efficiently in the open air, meaning that as long as you keep your two-meter distance, the risk of infection is low.
Certain facilities will also have different rules in place to ensure the safety of guests and some facilities may even be closed. It could be worth checking what's available for use before you go! Many sites will also have limited capacity of visitors, contactless check-ins and signs and markings to remind guests to stay two metres apart.
Is Your Tent in Tip-Top Condition?
After digging out your tent from the back of your garage or shed, you may look at it and think it needs some good old TLC! After all, you may not have been camping for a long time due to the lockdowns and restrictions the UK has faced over the last year, so your tent could be looking a bit worse for wear. Use these 5 steps to check your tent is intact:
Practice pitch your tent before you go anywhere – this is to ensure there's no obvious damage or missing parts
Check it's clean – and if it's not, our guide below will show you how to clean it!
Look for any damages to your tent – you may be able to temporarily repair small damages – this is explained in our guide
Test your tent's waterproof ability – it could need reproofing – check out our guide below!
Store it correctly when you put it away again – this is also explained in our guide
Check out our Tent Aftercare Guide for more detailed advice on keeping your tent in tip-top condition! And if there's no way your tent can make a comeback, then it may be time to buy a new one. Shop our huge selection of tents here.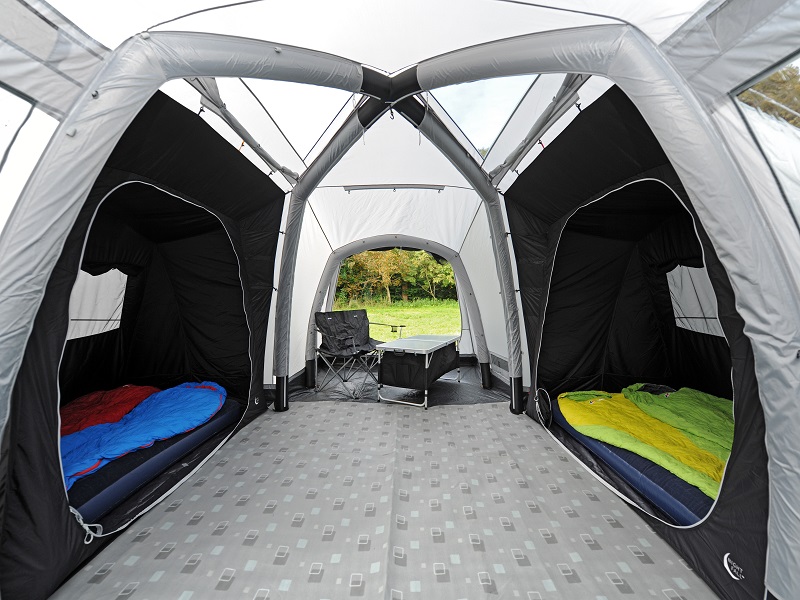 Check Your Gear
As well as your tent, there's plenty of other equipment you will need for your staycation. We have an unbeatable selection of camping gear on offer here at Go Outdoors, so if you think you're short of something then check out these following categories and find exactly what you're looking for.
So, whether it's on the coast, by the water, in the countryside or close to the mountain peaks, staycations are expecting to see a rise this year! We hope this has given you some top tips for booking and preparing for your future getaways!