You may have seen our new ad. If not you can check it out below. Has the song stuck in your head? Even more, do the landscapes have you yearning for some outdoor adventure?
If the locations showcased in our ad have inspired your explorer's brain, then here is the info you need to visit them yourself.
Snake Woodland, Peak District
Snake Pass is a famous road that cuts right through the heart of the Peak District, linking Manchester to Glossop and beyond. There are plenty of famous sights along the stretch, including Kinder Scout, Ladybower Reservoir, and the River Ashop, as well as the lovely Snake Pass Inn for those more interested in good food than good hikes.
A lesser known gem, Snake Woodland is a swathe of heavily wooded land right off the side of the Pass. There is easy parking at the Birchen Clough car park, and then it's straight into the woodland, for a 3km circular walk that accommodates all levels of ability whilst offering plenty of novelty.
Tiny streams cut through the trees, crossed by a variety of wooden bridges, standing stones (and some you can leap). The woods are quite dense, so there is plenty of atmospheric lighting for budding photographers, or those who want to get lost in their imagination. And it's backed with a soundtrack of birdsong and trickling water. All in all a perfect way to spend an afternoon, or break up a drive.
Druridge Bay, Northumberland
Northumberland has more than its share of gorgeous, isolated beaches and epic walking routes. Nowhere do these two ingredients come together more effectively than Druridge Bay. It has it all: dunes, rock pools and a 100-acre lake just a short walk back from the ocean in the Druridge Bay County Park.
With seven miles of uninterrupted coastline, stretching from Amble to Cresswell, the bay is a beach-walker's paradise, but also a haven for horse-riders and cyclists looking for wide open spaces to let loose. It's common to see surfers riding the waves offshore as well, where the North Sea can get a little testy at times.
At the southern end of the bay the Northumberland Coastal Path begins, meaning that you can continue your walk a lot further if you like.
Alderley Edge, Cheshire
How many places can you go on a 'wizard walk'? Alderley Edge, in the heart of Cheshire, offers more folklore and fantastical-sounding places than a trip to Hogwarts.
Stormy Point, The Devil's Grave and the Stone Circle: those are just some of the landmarks on this accessible circular walk. The Edge itself is a sandstone ridge that stands high above the Cheshire Plains, offering views of Manchester to the north and the Peak district to the south. It is ripe with historical details, being a site of copper mining all the way back to Roman occupation. And on top of that there's the wizard . . .
As the story goes a farmer was riding a horse to market. He was approached on his journey by an old hermit, who asked to buy his horse. When the farmer eventually agreed the old man led him to a rock, which he split open with his staff, to reveal hidden gates.
Within the secret stone the farmer was shown an army of knights, waiting to fight the 'last battle of the world' – and all they needed was one more horse. The farmer was offered as many jewels and riches as he could carry in payment. When he was led back to the upper world, the farmer turned to find the old wizard gone, and the rock whole once more.
This folklore forms the backdrop to the Wizard's Walk, a circular mile that takes you around the Edge. Though the route itself is short, the Edge is the kind of location that the whole family can spend a day exploring – with easy parking and the famous Wizard Inn to finish things off post-wander.
Hareshaw Linn, Northumberland
Back we go to Northumberland (told you, it really does have it all!). In Hareshaw Linn's case what it has in abundance is lichen. Yep – lichen, moss and something called liverwort. The area is famous for it.
… but we get you may not be that inspired by lichen, so thankfully Hareshaw Linn also has some incredible walking trails, wildlife and the striking waterfall that sticks out in our ad. The Linn is a wooded valley covering 50 acres, with a 3 mile walk that lead directly from the car park in Bellingham to the waterfall. It covers moderate terrain and will take an hour or two, so we recommend decent footwear and clothing for this one.
Along the way you may see woodpeckers, badgers, and Daubenton's bat (we have no idea who Daubenton is, or why a bat is named after him).
Tryfan, Snowdonia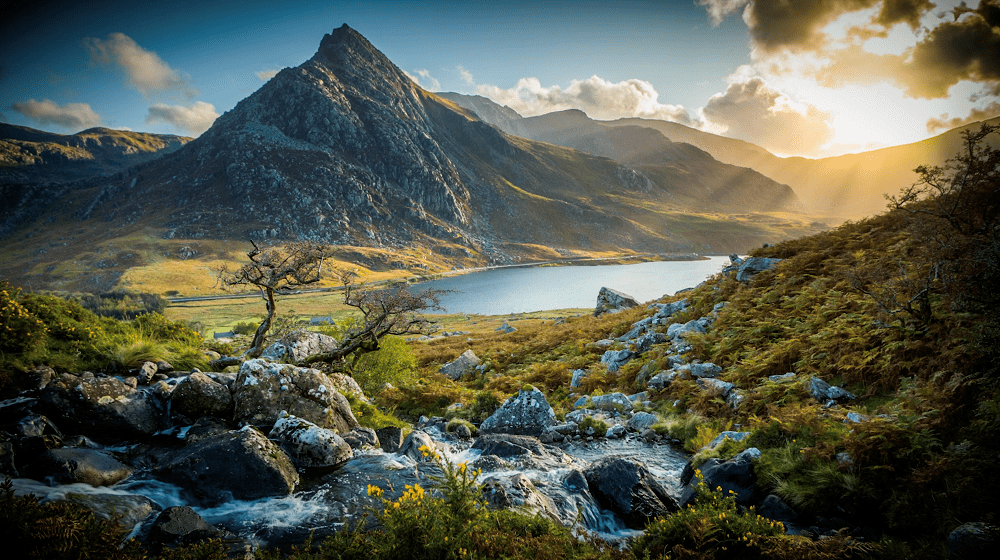 That closing shot in the ad is a mindblower isn't it? It looks like something from Lord of the Rings. "It must be filmed in New Zealand or somewhere exotic," we hear you say.
Nope, that's Tryfan, a mountain in Snowdonia National Park. Yep, something that epic is just waiting there in Wales for you.
Tryfan is a scrambler's paradise. It's a huge lump of higgledy-piggledy rock that you can climb around on all day long. Kids will love it, cos it's a lot more interesting that just walking, and you may even find yourself a little taken aback by some of the precipices.
If you want to do more than scramble, there are plenty of sheer faces for some true climbing. Perhaps the most high-octane activity on Tryfan, though, is the 'leap' at the summit. Two slabs of stone sitting a couple of feet apart – and it's a ritual for those who summit the mountain to jump between them. It may not sound like much (or look like much from the ground), but when you're on top of those stones, with the entire Snowdonia Valley stretched out before you, that mini-jump looks like a leap into the unknown.
These are just a few of the highlights waiting for you in the Great British Outdoors. As the world begins to slowly get back to normal, now is the time to think about exploring and prove that the outdoors is unbeatable.