The top must-visit destinations of 2023 revealed!
Looking to plan your next staycation? The UK is a great place to explore with plenty of holiday hotspots to choose from. There are a diverse range of destinations to visit across the country, with something on offer for everyone.
So, if you plan on camping in the beautiful countryside or just taking a nice long stroll along a scenic coastline, there is a spectacular variety of destinations for visitors to explore.
To help you plan your next family getaway, we decided to take a closer look at a range of destinations across the country, highlighting our best attractions and activities in each location.
From admiring historical landmarks to hiking up breath-taking landscapes – make sure to pack your walking boots and walking equipment before getting ready for an outdoor adventure of a lifetime, as we delve a little deeper into the best destinations the UK has to offer, showcasing the top holiday hotspots for 2023.
Whether you're interested in history, culture, outdoor adventures, exploring bustling cities or simply relaxing in a charming setting, we'll help inspire you to have an unforgettable trip this year!
Navigate here:
The best holiday hotspots in the UK
1. Betws-y-coed, Conwy – 8.40/10
This delightful village presents the perfect Welsh welcome. Perfect for holiday-goers, Betws-y-coed is a gateway to Snowdonia and its neighbouring towns.
Inviting you into a distinctly magical setting surrounded by forests, walking trails such as the Cyrau Walk, and mountain bike tours on routes such as the Gwydir Mawr and Bach, there's no denying that Betws-y-coed has plenty to offer. It's therefore no surprise that this holiday destination grabs the top spot with a score of 8.40 out of 10.
2. Ambleside, Cumbria – 8.37/10
A small town located in the Lake District, Ambleside has now become a major tourist destination. Not only is this top-rated holiday destination packed with many shops and restaurants, but it also has a great selection of places to stay.
Hugely popular among walkers and climbers, this small town is nothing short of exceptional. There are plenty of walking trails to enjoy and take in the beautiful views and scenic paths. Make your way around Loughrigg Fell, a 9.7-km circular trail passing through the River Rothay and Loughrigg Tarn. You can also extend your tour on this rocky path by taking a detour to the summit and Rydal Cave. Perfect for outdoor explorers, it's no wonder it takes second place with an overall score of 8.37.
3. St Ives, Cambridgeshire – 8.10/10
St Ives completes the top three list with a total score of 8.10. Largely known for its surf beaches and its art scene.
Voted the best family holiday destination by Coast Magazine, St Ives is a stunning location filled with top-tier restaurants and foodie hotspots – you'll be spoilt for choice.
What's more, this lovely town boasts a maze of narrow cobbled streets, independent shops and fisherman cottages.
The most sought-after holiday destinations
1. Isle of Wight, Hampshire
Annual holiday searches: 234,960
Just off the South Coast of England, the Isle of Wight takes the top spot as the most sought-after holiday destination, with an estimated 234,960 annual holiday searches.
A wonderful destination to explore all year round, the Isle of Wight has an array of things to do and places to travel in and around the Island, such as visiting Sandham Gardens or the Needles landmark.
2. Isles of Scilly, Cornwall
Annual holiday searches: 132,600
Described as "England's enchanting archipelago," the Isles of Scilly are an outstandingly beautiful holiday location, perfect for outdoor explorers.
With so much to explore in this sought-after spectacular getaway destination, you can visit one of its five inhabited islands to uncover some incredible ancient history whilst adoring its sweeping sea views and amazing wildlife. With so much to explore, it's no wonder the Isles of Scilly has an annual Google search rate of 132,600.
A natural wonder surrounded by a cluster of precious ocean jewels, the Isles of Scilly guarantee nothing short of a magical and unforgettable experience.
3. St Ives, Cambridgeshire
Annual holiday searches: 110,370
St Ives ranks in third place with a total of 110,370 annual Google searches. Often referred to as "the dazzling jewel in Cornwall's crown," St Ives is a picturesque fishing harbour and a seaside town; it is unsurprisingly one of Cornwall's most popular destinations.
With a great selection of beautiful sandy beaches, one of its most popular being Porthmeor Beach, it also has world-class art galleries including New Craftsman Gallery, the oldest established Gallery in St Ives, among many other one-of-a-kind attractions.
To top it off, there are also plenty of trails to explore for outdoor lovers, such as the South West Coast Trail from Lelant Saltings to St Ives or St Ives to Zennor.
Top holiday hotspots with the most activities
1. Betws-y-coed, Conwy
Things to do (per 10,000 people): 691
Hidden within the beautiful, mystical Gwydir Forest is the Betws-y-coed Welsh village, enhanced by stunning, picturesque views of natural scenery.
As a very popular tourist destination located in the Snowdonia National Park, Betws-y-coed has an impressive 691 things to do per 10,000 people.
This includes activities such as Zipworld's Fforest location, which caters for the whole family, offering activities such as Treehoppers adventure course for children and Zip Safari for adults.
2. Ambleside, Cumbria
Things to do (per 10,000 people): 335
Located in the Lake District National Park, Ambleside sits at the head of England's largest natural lake, Windermere.
There are plenty of things to do in this historic town – 335 per 10,000 people to be precise – including taking a family trip to Waterhead Pier, its terminal dating back to 1845, or exploring Lake Windermere by ferry.
During the summer months, you can also look forward to popular activities, for example taking a horse-drawn carriage from the centre of Ambleside. Furthermore, visitors can also hire motor and rowing boats, or simply just feed the ducks and swans.
3. Braemar, Aberdeenshire
Things to do (per 10,000 people): 309
Braemar is a popular thriving village located in the Cairngorms National Park in the Scottish Highlands. Not only does this holiday hotspot harbour the UK's highest and most mountainous parish, but an outstanding natural landscape lies at its heart.
Surrounded by beautiful scenery and rich history, Braemar offers year-round activities for everyone. There are approximately 309 things to do in the village.
This includes activities such as walking, snowsports, wildlife watching, visiting Balmoral Castle and even attending the famous Braemar Gathering. It's safe to say, there's so much to explore in this beautiful village.
Top holiday hotspots for nature and wildlife lovers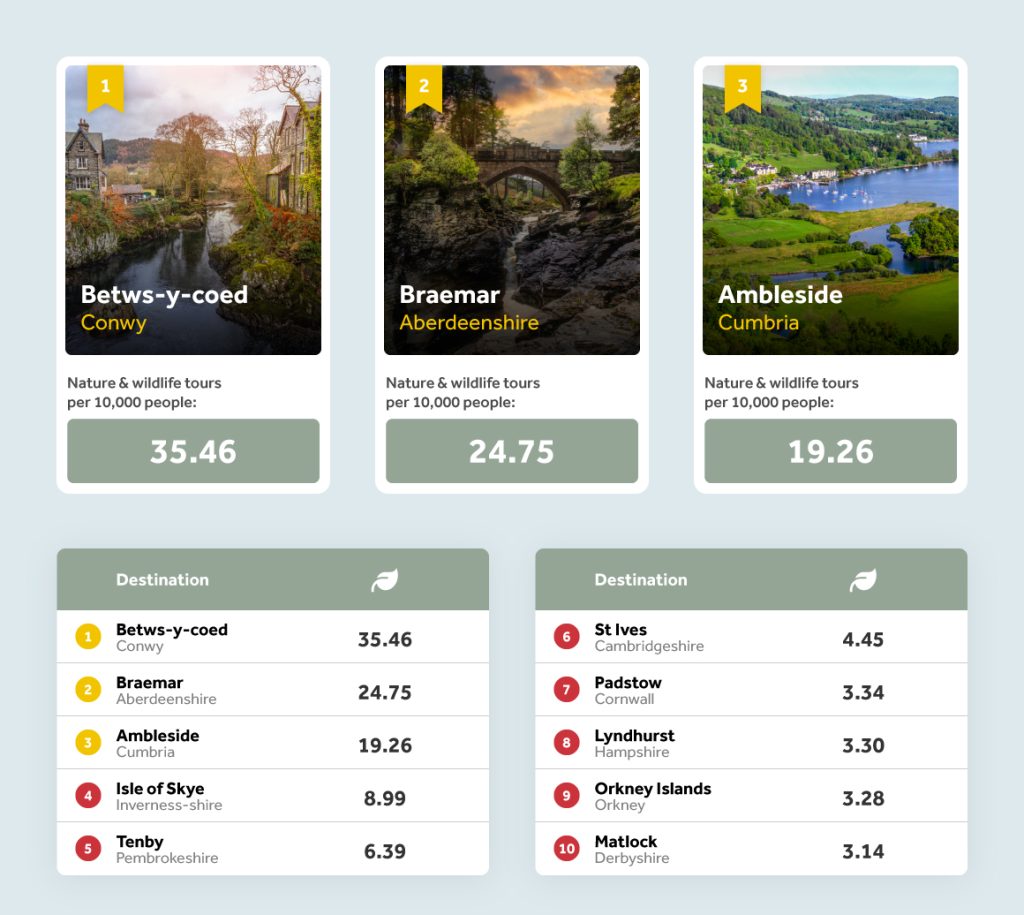 1. Betws-y-coed, Conwy
Nature and wildlife tours (per 10,000 people): 35.46
Known to be one of the prettiest villages in Snowdonia National Park, Betws-y-coed tops the list as the holiday hotspot with the most nature and wildlife tours.
Not only is this wonderful location surrounded by the enchanting Gwydir Forest Park, but you can expect to be mesmerised by its leafy walking trails, forested hillsides and magnificent glassy mountain lakes.
According to research, there are an estimated 35.46 nature and wildlife tours to explore per 10,000 people in the wonderful village of Betws-y-coed. These include visiting the Gwydyr Stables or taking on the Go Below Underground Adventures – an opportunity for a series of exciting adventurous challenges, such as abseiling and zip-lining through caverns.
2. Braemar, Aberdeenshire
Nature and wildlife tours (per 10,000 people): 24.75
Perfectly situated in the centre of the UK's largest national park, Braemar is a delightful village and a holiday playground all year round.
This authentic Highland village is surrounded by an outstanding, breath-taking natural landscape – enriched by mountains, valleys and woodlands.
There are over 24 nature and wildlife tours to explore per 10,000 people, such as its Hillgoer's guided walks and its bespoke off-road safaris.
3. Ambleside, Cumbria
Nature and wildlife tours (per 10,000 people): 19.26
Ambleside completes the top three as one of the best holiday destinations with the most nature and wildlife tours of approximately 19.26 per 10,000 people.
One of the many things you can look forward to exploring includes the Stock Ghyll Force, a spectacular 70-foot waterfall a short walk from the centre of the village that can be viewed safely from a railed viewpoint. Just make sure you take your waterproof jacket!
Covered in a carpet of daffodils during the spring, you can also visit the 17th-century Bridge House over Stock Ghyll Beck free of charge. It is one of the most photographed scenes in Lakeland.
The best holiday hotspots for biking
1. Betws-y-coed, Conwy
Bike tours (per 10,000 people): 35.46
Filled with numerous 19th-century buildings, including outdoor shops and hotels, Betws-y-coed is the perfect place to go on a family bike tour. The village has over 35.46 bike tours per 10,000 people.
Consider taking a tour on your bike across the infamous Waterloo Bridge which was first constructed in 1815 – the year of the Battle of Waterloo. An early cast iron bridge that spans the River Conwy, it has now become a popular tourist site.
2. Ambleside, Cumbria
Bike tours (per 10,000 people): 3.85
As a lovely lakeside town filled with plenty of amenities, Ambleside is placed in an ideal location to explore Lakeland.
Ambleside sits at the heart of the Lake District and is a great location for outdoor activities such as exploring Grizedale Forest or setting sail on Lake Windermere. One of the most popular mountain biking routes is the Ambleside and Rydal Water Circular Route, a 10.1-km trail considered to be moderately challenging, it takes 2h 55 min to complete on average. This stunning and varied route encompasses a good mix of sights and terrains with lovely views over the lake.
Not only are there around 3.85 bike tours per 10,000 people but it also offers bike hire among many other services.
3. Rye, East Sussex
Bike tours (per 10,000 people): 3.32
Described as a "stylish cobbled citadel", Rye is a gorgeous medieval English town near the coast of East Sussex.
Today it is home to several modern boutique hotels, charming cosy pubs and contemporary restaurants that serve the best Sussex has to offer. In addition to this, there are an estimated 3.32 bike tours per 10,000 people that you can take part in and explore the town's historic streets.
One route we'd recommend is the Rye Harbour Nature Reserve, a popular trail for birding, hiking and mountain biking. This 14.6-km circular trail heads out to the 16th-century Camber Castle and Castle Water before continuing on a long coastal path with views out to sea.
The best holiday hotspots for hiking
1. Betws-y-coed, Conwy
Hiking trails (per 10,000 people): 585.1
With spectacular terrain for hiking, biking and more, Betws-y-coed is a top-tier holiday destination for an action-packed adventure all year round. Estimated to have 585.1 gorgeous hiking trails per 10,000 people, it comes as very little surprise that Betws-y-coed takes the top spot.
Betws-y-coed is a beautiful location that encompasses stunning leafy trails, perfectly layered in carpets of bluebells during the springtime. There are also many picturesque hiking trails within the area, including Rhaeadr Ewynnol, also known as Swallow Falls.
A popular hiking spot in Snowdonia, this path takes you on a mix of footpaths and paved roads through the valley along the Afon Llugwy – so make sure you come prepared with the appropriate footwear, including walking boots.
2. Ambleside, Cumbria
Hiking trails (per 10,000 people): 516.2
Located at the northern end of Windermere is the well-known market town of Ambleside, a popular holiday hotspot among visitors.
Encircled by majestic Lakeland fells, Ambleside has hundreds of picturesque trails. According to our research, there are over 516 hiking trails per 10,000 people. These also include child-friendly and pet-friendly routes – great for your next family outing.
There are trails from Ambleside to Stockghyll Force to Loughrigg Fell Circular. The best part is there are hiking trails that accommodate all skill levels, making it ideal for little feet, paws, walkers and outdoor enthusiasts of all skill levels.
3. Bakewell, Derbyshire
Hiking trails (per 10,000 people): 205.1
The biggest town in the Peak District National Park, Bakewell is perhaps best known for its unique and tasty Bakewell tart. However, there is much more that this humble market town has to offer.
A great location for nature lovers and walkers alike, Bakewell has over 205 hiking trails per 10,000 people. One of its best hiking trails is the Lathkill Dale Waterfall Hike to Sheepwash Bridge, a 7.2-km out-and-back trail with a 17th-century packhorse bridge.
Not only is the town situated in an ideal location on the banks of the river Wye, but it is surrounded by mellow stone buildings, a medieval five-arched stone bridge and quaint courtyards – perfect for sightseeing.
Holiday destinations with the cheapest local transport
1. Edinburgh
Average cost of local transport (one-way ticket): £1.80
With so many places to explore and an array of things to do, Scotland's capital has plenty to offer its visitors. The best part is that visiting Edinburgh doesn't have to be expensive. It has the cheapest local transport within the city, starting at just £1.80 for a one-way ticket.
For such an affordable price you can fully immerse yourself in enjoying this beautiful city, not only delving into its rich history that dates back to Roman times but also soaking in some of its world-class architecture.
Perfect for sightseeing, Edinburgh has some stunning medieval alleys and grand civic squares.
2. Manchester
Average cost of local transport (one-way ticket): £2.00
Manchester ranks in second place with local transport being one of the cheapest in the country. On average, a one-way ticket is estimated to cost £2.00.
There is so much to do in this vibrant city. Not only is it jam-packed with unique restaurants, shops, museums, galleries and hotels, but it is also home to wonderful architecture, culture and sports clubs.
3. Cardiff
Average cost of local transport (one-way ticket): £2.00
Wales' capital city also comes in second place with local transport costing £2.00 on average. Cardiff is a great family holiday destination with much to do and see.
It is often regarded as the city with the most castles in the world, the most prominent being Cardiff Castle which stands at the heart of the city.
There are many other famous landmarks and places to explore, including taking a day trip to the historic Flat Holm Island.
Highest-rated holiday destinations for camping
1. Northumberland
Average campsite rating: 4.87/5
Northumberland grabs the top spot as the highest-rated holiday destination for camping, with 4.87 out of 5 stars. Filled with breath-taking natural landscapes, Northumberland is surrounded by lush, green valleys and forests, perfect for outdoor adventures.
Not only are there many family and pet-friendly campsite options but you can also soak in its
dramatic cliff-edged coastline whilst immersing yourself in a truly authentic camping experience.
The Coast and Castles Campsite is a great location situated only one mile from the beach and St Oswald's Way, a long-distance walking route. Not only is it dog-friendly but you can also easily explore some of the finest landscapes and fascinating history Northumberland has to offer.
2. Caernarfonshire
Average campsite rating: 4.85/5
Famous for its mighty Caernarfon castle, Caernarfonshire holds a lot of history. Though it is sparsely populated, its land is dominated by mountains and its towns are confined to coastal lands.
With so much natural landscape, Caernarfonshire makes it into the top three with an average campsite rating of 4.85 stars, making it a great holiday destination for camping. The Tros Y Waen Holiday Park is a great camping destination, ideal for families. It is situated in a peaceful location just 15 minutes away from the foot of Snowdon.
3. Devon
Average campsite rating: 4.82/5
Devon is a major holiday hotspot with an array of attractions. From its quaint market towns to its plentiful waterways, it is a diverse and vibrant county.
Its spectacular coastline makes it one of the best locations for camping. Therefore, it comes as no surprise that Devon completes the top three with a rating of 4.82 stars.
The Lynmouth Holiday Retreat is a top-tier location to visit with the family. Set in the Exmoor National Park, this campsite is a multi-award winning site with incredible views over the sea and an onsite shop.
Most affordable campsites in the UK
1. Lincolnshire
Average campsite cost: £82.87
Lincolnshire takes top place as the most affordable campsite in the UK, costing just £82.87 on average for three nights.
There are several campsites in and around the county, including the Three Horseshoes campsite, surrounded by a beautiful Lincolnshire Wolds setting and offering pre-pitched tents and campfires.
From its rolling countryside filled with historic market towns and villages, to its top-notch coastlines, there is so much to see and do in Lincolnshire, making it a great destination for your next family holiday.
2. Northumberland
Average campsite cost: £85.83
Northumberland follows closely behind in second place with an average campsite cost of £85.83 for a three-night stay. This county is surrounded by outstanding natural beauty and has some of the finest scenery in the country.
There are a series of campsites in this county that offer pet-friendly options. The Walkmill Campsite located in Warkworth is perfect for those looking for a more tranquil camping experience in a private setting for a spacious tent. Not only can you bring your four-legged companion with you, but it's located just minutes away from the coast.
3. Derbyshire
Average campsite cost: £90.28
Derbyshire harbours some of the best things nature has to offer, from its sweeping dales to its mysterious hedges and swathes of dense woodland.
This is a great destination to explore the great outdoors, with an average cost of £90.28 camping for three nights. Campsites such as Knotlow Farm and Middlehills Farm both offer peaceful, family-friendly camping experiences with on-site shops and even homemade pizzas available at Knotlow.
In summary, the UK is home to many incredible holiday destinations that offer a range of activities for outdoor enthusiasts. Whether you're interested in camping, hiking or simply just in search of the best places to go mountain climbing, there's a great range on offer for your next big adventure!
Methodology
To reveal the most popular staycations for 2023 we took a deep dive into the best UK destinations to visit this summer. To do this, we first created a seed list of the top 50 UK towns and cities for a staycation using sources such as The Telegraph, TimeOut and Country Living.
We then used Google Ads Keyword Planner to reveal the annual Google search volume for staycations in each destination. This data specifically looked at 2022-2023 Google searches, highlighting the most sought-after UK locations.
To ensure the accuracy of the data we used relevant and specific search terms such as 'Oxford holiday,' 'holiday in Oxford' and 'Oxford staycation' rather than just 'Oxford.' We then combined the figures for these searches.
From Tripadvisor, we sourced the number of things to do, nature and wildlife tours, and the number of bike tours in each destination. This was collected on 24/04/2023.
AllTrails was used to source the number of hiking trails in each location. We then calculated these figures per 10,000 people of each location's population. This data was collected on 24/04/2023.
The average cost of transport in each location was sourced from Numbeo to find out the cost of a one-way ticket on local transport for each location. The figures for this were collected on 24/04/2023.
For the camping section, we researched the top campsites by star rating in the area of each of these locations using Campsites.co.uk. We then took the average cost of camping for three nights during the summer months using the same source.
This data was collected by looking at the average cost of a three-night stay over one weekend in June, July and August, separately. This was collected on 24/04/2023.
We then worked out the average for all three months combined to get an overall average nightly cost of a medium tent (accommodates two to four people) during the summer months. This data was collected based on a family of two adults and two children.
Each factor (excluding those relating to camping) was given a normalised score out of ten before an average of these scores was taken. Note that the 'things to do' section was given a double weighting. These figures were then ranked to determine the best holiday hotspots for 2023.